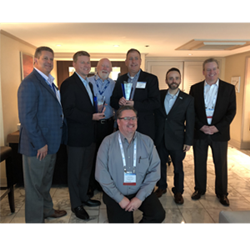 WILMINGTON, Mass. (PRWEB) May 28, 2019
Heilind Electronics, a premier distributor of electronic components worldwide, was recently recognized with two awards from Panduit: Top Revenue-Generating Electronics Distributor of the Year and Continuous Growth Electronics Distributor of the Year. These are two of many distinctions the company received at the EDS show in Las Vegas this month - including being named the #1 electronics distributor for the seventh consecutive time by Bishop & Associates.
"As one of our top distributors for the Panduit Industrial & Electrical Infrastructure business unit, we wanted to recognize a great partner for the effort and results Heilind has achieved," said Patrick Ryan, Channel Manager - NA Distribution, Panduit. "Our partnership and customer service provided by Heilind to our mutual customers is extraordinary. Thank you, Heilind, for driving growth and servicing the customer this year and in the future."
The annual awards presented by Panduit are based on Panduit's fiscal year and include performance factors such as highest revenue and outstanding growth in sales - both of which contributed to Heilind's receipt of these awards.
"It is an honor to be recognized for our partnership and continued contributions with Panduit," said Alan Clapp, Vice President of Supplier Business, Heilind Electronics. "These prestigious awards are the result of the hard work and commitment of all Heilind employees. It is our ongoing mission to exceed the expectations of our customers and suppliers by demonstrating performance, trust and innovation in every business transaction."
Heilind Electronics is Panduit's largest electronics distributor and maintains the largest inventory of Panduit products, including wire and cable; labels and ID products; and connectors and hardware. These items span several markets, including computer, datacom, telecommunications, industrial and manufacturing equipment, medical electronics, consumer electronics and more.
For more information on Heilind Electronics, visit: http://www.heilind.com.
About Heilind Electronics
Heilind Electronics, Inc. (http://www.heilind.com) is one of the world's leading distributors of connectors, relays, sensors, switches, thermal management and circuit protection products, terminal blocks, wire and cable, wiring accessories and insulation and identification products. Founded in 1974, Heilind has locations throughout the U.S., Canada, Mexico, Brazil, Germany, Singapore, Hong Kong and China. Follow Heilind on Facebook at facebook.com/Heilind and on Twitter at twitter.com/Heilind.