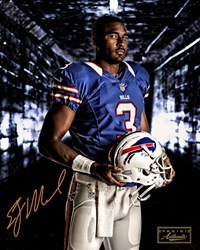 We've had a great relationship with EJ since before the 2013 NFL Draft and we are extremely excited to welcome him to the Panini Authentic family.
Irving, TX (PRWEB) December 05, 2013
Panini America, the world's largest sports and entertainment collectibles company, announced today that it has signed Buffalo Bills quarterback EJ Manuel to an exclusive autograph and memorabilia agreement through its Panini Authentic division.
Manuel is the second NFL player to join Panini Authentic's exclusive roster of athletes that also includes NBA superstars Kobe Bryant, Kevin Durant, Kyrie Irving and Blake Griffin. Manuel's autographed memorabilia – including signed helmets, jerseys and photographs – will be available for the holidays exclusively at Panini Authentic Website.
"We've had a great relationship with EJ since before the 2013 NFL Draft and we are extremely excited to welcome him to the Panini Authentic family," said Panini America CEO Mark Warsop. "On the field and off, EJ is an impressive individual and someone we're proud to have representing our brand while offering another dimension to our Panini Authentic division."
Through the first eight starts of his NFL career, Manuel has thrown for 1,595 yards, has accounted for 10 total touchdowns and has spearheaded Bills victories over the Carolina Panthers, Baltimore Ravens, Miami Dolphins and the New York Jets.
During his decorated career at Florida State, Manuel became just the second quarterback in FBS history to win four consecutive bowl games. The Seminoles' all-time leader in completion percentage, Manuel also ranks among the top five passers in school history for passing yards, total offense, completions and attempts.
"Panini America is a first-class organization and the global leader in trading cards and memorabilia. I've had the pleasure of getting to know them [on a personal level] for almost a year now, and I'm truly honored to officially join their team in this exclusive relationship," said Buffalo Bills Quarterback, EJ Manuel.
Panini America is the only company in the world that manufactures licensed trading cards and stickers for the NBA, NFL, NFL PLAYERS, NHL, NHLPA, MLBPA and FIFA World Cup. The company also has exclusive relationships with USA Baseball, USA Basketball and the U.S. Soccer Women's National Team. In addition Panini also has relationships with the Naismith Memorial Basketball Hall of Fame, The Pro Football Hall of Fame and the National Baseball Hall of Fame and owns exclusive entertainment licenses with Disney, One Direction, Justin Bieber and Michael Jackson, and more than 600 global licenses with other sports and entertainment properties.
ABOUT PANINI:
The Panini Group, established almost 50 years ago in Modena, Italy, has subsidiaries throughout Europe, Latin America and the United States. Panini is the world leader in officially licensed collectibles and is the most significant publisher of collectibles in the U.S., with official licenses for MLBPA, NBA, NFL, NHL, FIFA, USA Baseball, Disney, Nickelodeon, Warner Bros. and other key properties from many other licensors. Panini has distribution channels in more than 100 countries and employs a staff of over 800. For more information visit us at http://www.paniniamerica.net, http://www.paninigroup.com or http://www.paniniamerica.wordpress.com. You can also follow Panini America on social media platforms Facebook, Twitter and on YouTube.