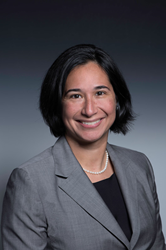 NEWTOWN, Pa. (PRWEB) December 17, 2019
Philadelphia IP law firm Panitch Schwarze Belisario & Nadel LLP is pleased to announce that it has hired Dr. Alia Orbin, Ph.D., J.D., an experienced registered patent attorney with expertise in biotechnology and pharmaceuticals.
Orbin is experienced in the preparation, filing and prosecution of patent applications related to pharmaceutical sciences, organic and inorganic chemistry, biotechnology, and material sciences. She also is experienced in conducting searches and reviews to assist in due diligence, patentability and freedom to operate analyses.
Prior to joining Panitch Schwarze Belisario & Nadel LLP, Orbin worked as a patent attorney/agent at another law firm in the Philadelphia area. Her responsibilities there included drafting and prosecuting patent applications and managing patent portfolios and patent prosecution for a wide client base including large corporations, universities and individual inventors.
Orbin has more than 10 years of experience in industrial and academic research in organic chemistry, before turning to the practice of intellectual property law. She worked as a research associate in medicinal chemistry at a pharmaceutical company. While there, she synthesized novel antibiotics and was listed as an inventor on several patents and patent applications. Her graduate research focused on the total synthesis of a natural product.
Orbin was an author on multiple articles in scientific journals, such as Journal of Organic Chemistry and Bioorganic & Medicinal Chemistry Letters.
Orbin earned her bachelor's degree in biology from Yale University and her doctoral degree in synthetic organic chemistry from University of Pennsylvania. She received her law degree, magna cum laude, from Temple University's Beasley School of Law, where she was a Microsoft Fellow, Honorable Louis C Bechtle Scholar, Conwell Scholar, and a recipient of multiple awards, such as Catherine Donahue Memorial Award and TASA Prize in Evidence.
"We are fortunate to have secured the talent of Alia to our team," said Weihong Hsing, Ph.D., J.D., of the firm's Pharmaceutical/Biotechnology group.
"Alongside the current team members, Alia will play an important role in our pharmaceutical and biotech practices. Alia's expertise in pharmaceutical and biotechnology patenting will serve our clients' growing needs well."
To learn more, visit the firm's website.
About Panitch Schwarze Belisario & Nadel LLP – Panitch Schwarze Belisario & Nadel LLP is a boutique intellectual property law firm with offices in Philadelphia and Wilmington, Delaware. The firm's IP law practitioners provide strategic litigation, licensing and counseling service relating to patents, trademarks, copyrights and trade secrets, domain names and internet issues domestically and internationally. The firm's long-standing relationships with a network of associates worldwide enable its attorneys and advisors to provide clients with global intellectual property advice and protection.