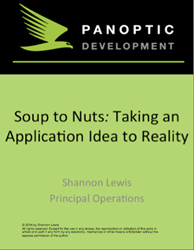 Our ebook - Soup to Nuts: Taking an Application Idea to Reality and our video series - Demystifying the Software Development Process will provide you with the confidence you need to take the next step. - Shannon Lewis - Principal Operations.
(PRWEB) April 02, 2014
Soup to Nuts: Taking an Application Idea to Reality will provide the tools needed to move confidently forward with a web or mobile application idea. The ebook will help:

Determine the web or mobile application's requirements
Understand the delicate balance between features, budget and time to market
Determine who will build the application (internal or a consultant)
It will also:

Provide an in depth view of the software development process
Assist in better understanding stakeholder's roles in the process
Assist in understanding the next steps once the application has been built
Provide guidelines to think about when picking a consulting company
Demystifying the Software Development Process is a four part video series detailing the software development process. The videos will assist in:

Determine the web application's requirements
Building the users stories
understanding the design process
Understanding the iterative software development process
About Panoptic Development Inc:
Panoptic Development Inc is a software engineering firm based in Rhode Island. Our development team has a breadth of skills in software architecture, system architecture, web development, mobile application development, computer languages, databases, user interface design, and quality assurance. We've been building Ruby on Rails-powered applications from the get go, but we also have extensive experience with many open-source web technologies.