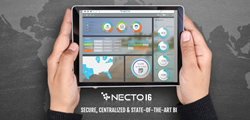 "Panorama Necto is a great addition to the Microsoft Azure Marketplace," said Nicole Herskowitz, senior director of product marketing, Azure, Microsoft Corp.
(PRWEB) July 31, 2017
A year ago, Panorama started to deliver its state of the art and centralized solution, Necto, through the Azure Marketplace. The move enables users to enjoy the benefits of centralized, state-of-the-art business intelligence together with the benefits of Azure, such as deploying a solution in seconds and having integrated cloud services at hand.
The Azure Marketplace provides an opportunity to diversify not only Panorama's channels, but also its offerings. Panorama traditionally offers an on-premise web solution; now, thanks to Azure cloud services, Panorama can give its clients the option to deploy a fully functioning cloud solution in seconds. Since offering Panorama Necto in the Azure Marketplace, sales and live trials have increased significantly, and the sales process has become more efficient.
Panorama Necto utilizes Azure infrastructure to simplify data analysis, providing users with actionable business insights in a centralized and secure environment. In addition, Necto offers users new cloud-based capabilities including the ability to deploy a fully functioning solution in seconds, scale automatically with demand, and connect natively to data already on Azure. Panorama integrates Azure SQL Database and Azure Analysis Services to supply customers with fast, state-of-the-art BI.
Tomer Paz, Panorama's product manager, said, "We are very excited about our continued use of Azure. We were a beta partner in Azure Analysis Services and now that it is live, and every customer can use it, it opens up wonderful new opportunities. Users can have our BI solution up and running in seconds. And it is always exciting to work with Microsoft."
Panorama usually offers an on-premises web solution that involves a lengthy IT processes. Using Azure saves weeks in the sales process and reduces unnecessary workloads on IT teams. Necto on Azure is a fully functioning data analysis and business intelligence solution that is highly dynamic and cost effective.
"Panorama Necto is a great addition to the Microsoft Azure Marketplace," said Nicole Herskowitz, senior director of product marketing, Azure, Microsoft Corp. "By taking advantage of the Azure Marketplace, Panorama has the opportunity to diversify its channels and its offerings while also saving companies time and costs."
About Panorama
Panorama Necto delivers secure, centralized, and state of the art Business Intelligence. It uncovers the hidden insights in your data and presents them in beautiful dashboards powered with KPI alerts.
Panorama Software received this year an award given by BDO and People and Computers, after surveying hundreds of CIOs and CTOs. Panorama won #1 in the Business Intelligence category for overall customer satisfaction, product stability, integrity, ease of use, and UI/UX, beating other BI vendors such as Tableau, Qlik, SAP, and more. And last week Panorama received the "Best Innovation Partner for 2017" award at the Amdocs Global Partner Conference in Miami. Innovation in the BI arena is a big commitment for Panorama.