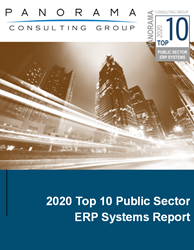 "When defining selection criteria, organizations should consider more than just their immediate needs. Strategic alignment gives organizations a better understanding of what technology will address long-term needs, such as increased return on citizenship."
GREENWOOD VILLAGE, Colo. (PRWEB) October 03, 2019
The digital business transformation and ERP consulting firm, Panorama Consulting Group, recently released an independent report relevant to public sector organizations evaluating ERP software. The report includes ERP selection advice and highlights vendors that Panorama believes has strong functionality for states, cities, agencies and tribal governments.
"A key success factor of digital transformation for the public sector is the ability to become a digital government by selecting the right technology," said Vanessa Davison, Managing Director of Panorama. "Organizations must modernize their processes and technology to meet the demands of citizens."
The report discusses some of the challenges the public sector is facing that are motivating it toward modernization. Panorama makes recommendations as to how to strategically approach modernization and highlights the importance of setting clear goals.
"When defining selection criteria, organizations should consider more than just their immediate needs," said Davison. "Strategic alignment gives organizations a better understanding of what technology will address long-term needs, such as increased return on citizenship."
About The 2020 Top 10 Public Sector ERP Systems Report
Panorama Consulting Group developed The 2020 Top 10 Public Sector ERP Systems Report to provide ERP selection guidance to states, cities, agencies and tribal governments. The report can be downloaded here: https://www.panorama-consulting.com/resource-center/2020-top-10-public-sector-erp-systems-report
About Panorama Consulting Group
Panorama Consulting Group is an independent, niche consulting firm specializing in business transformation and ERP system implementations for mid- to large-sized private- and public-sector organizations worldwide. One-hundred percent technology agnostic and independent of vendor affiliation, Panorama offers a phased, top-down strategic alignment approach and a bottom-up tactical approach, enabling each client to achieve its unique business transformation objectives by transforming its people, processes and technology. Panorama's services include ERP Selection, ERP Implementation, ERP Contract Negotiation, ERP University, Digital Strategy, Technology Assessment, Change Management, Human Capital Management, Business Process Management, M&A Integration, Turnaround Analysis, Crisis Management, Financial Restructuring, Operational Restructuring, Project Auditing & Recovery and Software Expert Witness Testimony. Learn more at https://www.panorama-consulting.com/.