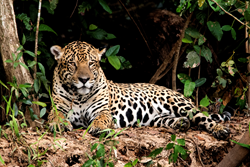 It's the only place on earth where encountering the majestic jaguar is more probable than possible.
Arlington, MA (PRWEB) May 28, 2015
Ciclismo Classico is excited to announce a NEW photography tour of Brazil's Pantanal. Guests will explore the largest contiguous wetland on the planet while photographing its spectacular wildlife on a tour led by master photographer Ossian Lindholm. The Pantanal is one of the world's last great wildernesses, a World Heritage Site and UNESCO Biosphere Reserve, containing elements of the Amazon Rainforest, Brazilian Savannah, and Paraguayan Chaco, including hundreds of bird and fish species, dozens of mammals, and an assortment of unique reptiles and amphibians. This wildlife tour provides close-up views of distinctive regional fauna such as tapirs, giant anteaters, caiman, capybaras, howler monkeys, giant river otters, the hyacinth macaw, toco toucan, and hopefully the stealthy jaguar! Slated for August 28 – September 7, 2015, this Pantanal photo journey starts at $6,790. For more information, visit https://www.ciclismoclassico.com/trips/wildlife-photography-brazil-pantanal/
"Guests will canoe the Rio Clarinho, lodge in authentic fazendas, hike the jungle with expert local guides, fish for piranha, photograph tons of exotic wildlife, and hopefully spot a jaguar on this Pantanal photo safari," said Ciclismo Classico Founder Lauren Hefferon. "This is absolutely a nature and camera lover's bucket list adventure."
Tour Highlights Include:

Photographing regional wildlife such as caiman, capybaras, howler monkeys, and giant river otters.
Spotting hundreds of birds including the beautiful hyacinth macaw and the toco toucan.
Culturally-immersive accommodations at working plantations known as fazendas.
Touring wetlands by motorboat with expert local guides allowing for quick spotting of jaguars.
Learning photographic techniques from expert photographer Ossian Lindholm.
*Please note this is not a cycling tour.
"It's the only place on earth where encountering the majestic jaguar is more probable than possible," said Hefferon. "There is no better place to see wildlife in South America."
About Ciclismo Classico
After inspiring thousands of guests and designing the world's most innovative cycling itineraries, one simple principle remains at our Ciclismo Core: life should be active, fun, delicious, educational, flowing, strengthening, energizing and deeply connected with beautiful places and their people. Whether you are pedaling a bicycle or looking through a lens, you will discover, on a Ciclismo Classico tour, that life itself is a dream waiting to happen. Come discover and ignite your passion with us in 2015. You may never be the same again.