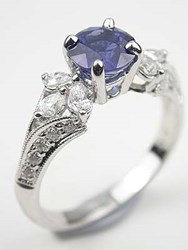 The Dazzling Blue stone from the Pantone Spring 2014 color palette in this engagement ring is a deeper blue, with just a hint of violet, that has a calming effect on the wearer.
Atlanta, GA (PRWEB) October 16, 2013
Color authority Pantone recently released its palette for spring 2014. In celebration of that announcement, antique jewelry boutique Topazery is currently spotlighting a blue sapphire engagement ring throughout the month of October. The center stone of this antique style ring is suffused with one of the key colors making the Pantone list: Dazzling Blue.
The Pantone Fashion Color Report Spring 2014 singles out the "10 hues expected to be popular in the fashion, design and technology industries" this upcoming spring season. "Inspired by a mixture of blooming flowers, travels abroad and strong, confident women," the palette uses color to "refresh, revive and defy conventional wisdom."
On one end of the spectrum the Pantone Top 10 list embraces three nature-inspired pastels: Violet Tulip; springtime foliage Hemlock; and azure sky Placid Blue. The palette then extends into inviting earth tones such as toasted Sand and sophisticated Paloma gray. It culminates with bright, warm hues like spicy Cayenne red, blazing yellow Freesia, sunset Celosia Orange and Dazzling Blue.
Pantone calls Dazzling Blue "a scintillating polar opposite to (the picture-perfect, tranquil and reassuring sky) tone of Placid Blue." As a result, it contains a bolder pop of color, making it especially amenable to breaking free from the winter doldrums. Given that Pantone decides each season's colors based on that season's runway looks at the New York Fashion week, it's not surprising that after donning dark hues for so many months fashion's elite would be so compellingly drawn to Dazzling Blue.
And that's precisely where Topazery drew inspiration for its October spotlight jewelry piece, a Dazzling Blue Sapphire Engagement Ring. Featuring a 1.04 carat round blue sapphire, this antique style engagement ring also boasts diamond petal accents at the shoulders and cascading down the sides.
"The spring color palette arose from the notion that consumers are looking for a state of thoughtful, emotional and artistic equilibrium," explains Topazery's spokesperson. "In assessing the 10 shades chosen for the upcoming season, Dazzling Blue particularly struck me. It's a deeper blue, with just a hint of violet to it. Cool colors like blue and purple are known for having a calming effect on the emotions, and our October spotlight jewelry piece has that kind of impact on me every time I gaze into it."
For more information on how to marry spring's hottest colors with a jewelry piece that complements a specific personality, contact Jan Walden at (678) 528-8901. To browse Topazery Jewelry's full selection of antique, vintage and antique style engagement rings from the season's full palette, visit the company online at http://www.topazery.com/.