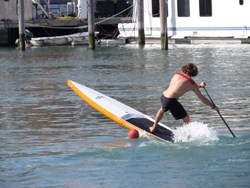 ...with Jimmy's board I can step back and turn very strong without falling.
Miami, FL (PRWEB) January 17, 2014
You may not have heard of Paolo Marconi before this weekend's Orange Bowl Paddle Championship in Miami, FL. He flew in from Italy just for the annual race and competed in the 7 mile elite course, followed by the sprints. He advanced through all of the sprint heats besting the big names of the sport like Slater Trout, Ryan Helm, Fernando Stalla, Dan Gavere, and others.
Unlike many of his competitors, Paolo, who is known back in Italy as "De Bull," was riding a stock production Jimmy Lewis board which can be purchased in most any major SUP store, and can be ordered online. http://us.jimmylewis.com/p/stiletto?pp=20
In today's race scene, many riders expect their sponsors to provide them with a high-end custom carbon race board in order to be competitive. Prize money and sponsorships are on the line, so many racers feel that the lightest, narrowest, most expensive boards are the only solution. Such boards are impractical for the average weekend racer because they are very fragile and can cost up to $4000. A sponsored rider can afford to go through a board every few months, but it doesn't make sense for the rest of the market.
Paolo Marconi has proven that the power and technique of the racer, combined with a great board shape is more important than having a custom board. In the finals against Taylor Rambo and Ryan Helm, Paolo gained a significant lead on his buoy turn. The ability to turn on a dime and complete the return leg of the sprint was his main advantage. He approached the buoy at full speed and performed what looked like a hand brake turn or hockey stop around the buoy. Paolo explained, "Jimmy's board has a very stable tail. Other boards are very narrow for speed, but with Jimmy's board I can step back and turn very strong without falling." Paolo is referring to the step turn which is used to make a 180 degree turn on a paddleboard. Race boards are notoriously difficult to turn because they are shaped to go fast in a straight line. By stepping back onto the tail with one foot, the racer can lift the bow out of the water, and swing it around with caution so as not to fall.
On the same day, during the 3 mile race of the Orange Bowl Paddle Championship powered by Jimmy Lewis, Kyle Igneri won first place over 97 other racers, and Travis Suit won first place in his age division. Nessa Brunton placed 2nd in her division of the 7 mile Elite race and Donald Pratt placed 7th in his division of the 7 mile Elite Race. All four of them were riding the standard production Jimmy Lewis Stiletto.
Jimmy Lewis explains that he does not want to make custom boards that are so fine-tuned for specific riders, because the boards become too narrow and unstable for the average racer to balance. "A good shape is way more important than shaving a few pounds off the board or simply trying to make it as narrow as possible." Furthermore, Jimmy's Signature I-Beam Construction means that while only slightly heavier than its carbon fiber counterparts, his boards will last through years of abuse.
Paolo lives in Italy where he races for Quickblade Paddles and Jimmy Lewis boards. He famously circumnavigated Elba Island off the coast of Italy, completing 52 miles in 12 hrs. 37 minutes, also on a Jimmy Lewis board.
Jimmy Lewis has been shaping surfboards on Maui for 46 years and was one of the very first to bring production standup paddle boards to market in 2006.
The Orange Bowl Paddle Championship Powered by Jimmy Lewis Benefiting Big Brothers Big Sisters takes place in Miami, FL every year during Surf Expo weekend. The top names in the sport of SUP come for the $13,000 prize purse and the beautiful and diverse course that winds through the high rise buildings of the Miami River.
http://orangebowlpaddle.com/Orange_Bowl/Orange_Bowl_Paddle.html