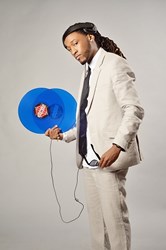 I am pumped about the collaboration, and ready to show the world how this style and my music compliment one another
Boston, MA (PRWEB) August 28, 2013
This month, New England DJ Papadon formally joined "The Sound Council," a creative collaboration of deejays around the nation representing ROOS by Shane and Shawn. "I am pumped about the collaboration, and ready to show the world how this style and my music compliment one another," Papadon mentions. DJ NoLove, originally from Florida, with ties to the DC, Maryland, and Virginia area, also joins "The Sound Council" alongside Papadon.
ROOS by Shane and Shawn is a stylish collection of the KangaROOS brand by designers Shane and Shawn Ward. The brand offers clothing designs for men, women, and children around the world. "The Sound Council" hosts around twenty-four deejays around the United States, all with unique skills and fashion styles that range in radio and nightlife.
"We are excited about this project and anxious to see what the future holds for so many talented deejays and this fashion line," said Darius Brown, Managing Partner of The Brown Group Worldwide, DJ Papadon's management team. Papadon and The Brown Group Worldwide are currently working on the release of a photography campaign showing the fashion offered by ROOS by Shane and Shawn. The collaboration comes alongside the release of Papadon's mixes; Ladies Mix Volume 3 and Street Motives Volume 2 released this summer. Papadon wraps up his summer projects at the beginning of September in preparation for his back to school campaign.
The Brown Group Worldwide is a public relations and marketing management company in Massachusetts. The company serves as DJ Papadon's full-time management team specializing in the areas of press relations and operational oversight. The Brown Group Worldwide provides marketing strategies and consultation in the areas of brand marketing and business efficiency for the accomplishments of business goals. DJ Papadon is currently based out of Boston, MA with major reaches in the New England area.