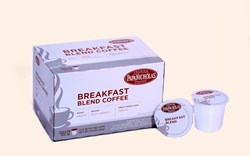 We resisted a single-serve coffee offering for a long time because we did not believe it would yield a quality cup of coffee.
Batavia, IL (PRWEB) August 26, 2013
PapaNicholas Coffee has introduced a variety of new, single-serve coffees to meet the growing demands of Coffee drinkers. The new single-serve cups are now available in a variety of six roasting styles. They include PapaNicholas® Breakfast Blend, Five Star Restaurant Blend, Hawaiian Style, Hazelnut Crème, French Roast, and Italian Espresso. The single-serve coffees are K-Cup compatible and can be brewed in any K-Cup compatible coffee brewer. The PapaNicholas single-serve coffees are available through multiple consumer and business channels, including grocery stores, office supply stores as well as the on-line store at http://www.papanicholas.com.
The demand for single-serve coffees has grown significantly. It is the highest growth segment and the driving factor behind the overall growth of the coffee market. The rising consumer demand for single-serve coffee is fueled by: the convenience of making fresh brewed coffee in less than a minute; the consistency and freshness of the single-serve cups; and the variety of roasts and blends that are available. The single-serve coffee phenomena was introduced in Europe. Studies now show that one of three Americans have a single-serve coffee brewer either at home or work. This trend is expected to grow over the next three years.
Coffee experts at PapaNicholas Coffee did not embrace the single-serve cup coffees for many years. According to owner, Chris Papanicholas, "we resisted a single-serve coffee offering for a long time because we did not believe it yielded a quality cup of coffee. We now believe that the process of producing the single-serve cups has improved dramatically and that we can now offer a single-serve coffee that matches our quality standards." In addition, Mr. Papanicholas asserts "the single-cup brewers have also improved over the past few years. They are more sophisticated and capable of brewing a decent cup of coffee."
About PapaNicholas Coffee Company
The PapaNicholas Coffee Company is a privately owned coffee producer established in 1982. The current business operation and manufacturing facilities are located in a suburb of Chicago, Illinois. The Papanicholas family is deeply rooted in coffee. With more than one hundred years of experience and three generations working in the coffee industry, PapaNicholas Coffee provides the highest quality coffees and espressos available.