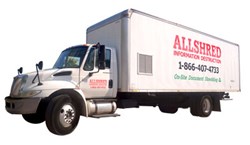 In 2012, there were more than 12 million identity fraud victims across the United States.
West Palm Beach, FL (PRWEB) August 30, 2013
Information destruction and paper shredding is not a new concept. However, with recent technology advancements the security of information has been vastly compromised. From individuals protecting their personal records to both large and small companies protecting their sensitive data, building a solid framework for information destruction is imperative.
AllShred Inc. has launched a new website to offer services for information security and data destruction. From law firms to insurance companies and from the healthcare industry to the financial services industry, the need for information destruction touches almost every facet of the working world. Unfortunately, many shredding companies offer a limited set of services. At AllShred Inc., however, clients are given the opportunity to customize their shredding solutions system in order to meet the individual needs of their home or company.
Throughout the years, AllShred, Inc. has recognized that information distribution in today's business world is abundant. While this is helpful for the dissemination of public information, it creates a serious issue for private and confidential information and data. The ability to identity and access private records is easier today than ever before. To reflect these changes in the distribution and access of information, AllShred Inc. has taken the opportunity to provide both businesses and individuals with a safe, secure, and affordable method of paper shredding and documentation destruction.
From Miami up to Port St. Lucie, AllShred Inc. is able to develop an information destruction plan for the individual or company, never using a standard approach. A shredding technician will visit the site and determine a demolition plan accordingly.
About AllShred, Inc.
AllShred, Inc. is founded on principals of reliability, confidentiality, and trust. Whether you are seeking a one-time shred or a periodic scheduled service, AllShred, Inc. will develop a plan which meets your every need. Our onsite and offsite abilities allow us to supply the most innovative shredding techniques. Contact AllShred, Inc. today to discuss your personal needs with a paper shredding and document destruction specialist located in Miami, Port St. Lucie, West Palm Beach, or Fort Lauderdale. http://www.allshredflorida.com/