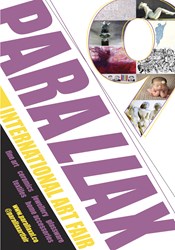 We are long overdue of a conceptual overhaul in the visual arts and most of us all know it too.
London (PRWEB UK) 1 February 2014
The catalogue to the ninth edition of Parallax Art Fair was published recently. It contains an essay by Dr Chris Barlow called "Proem 4571: Irony of a 'Disenfranchised.'" "There are a lot of myths that some artists have swallowed about themselves and the industry which need demythologising because they are an obstruction to them," says Barlow. "These deterministic myths lock some artists into a mindset about who they should be and what they should be doing, as well as encouraging them to judge their fellow artists and to sometimes live in a self-made 'genius bubble' or, even worse, 'genius enclave.' They are fed by the educational system and its Art History, but they are also abused by self-appointed critics who are nearly always using them, sometimes unknowingly themselves, as a way to promote and sell their literature to unwary artists. These myths are big business in the 'art world.' But they are highly influenced by Hegelian and Schopenhaurian narratives about history, genius and zeitgeist that have partly come through the history of art.
"They not only generate a false demography of the 'art world' in developed economies, ignoring the majority of practitioners world-wide who are exterior to the traditional route of Fine Art, but they have created a contradictory idea that 'contextualisation,' however construed, pervades art objects. It is this assumption that we have inherited about art that is foundational to art criticism and the arbitrary divisions and hierarchies created in the 'art world'. It has bred a generation of artists that want to be History, which is quite ironic. But art objects do not 'embody', however construed, 'contextualisation', 'critical-awareness' or any other 'category' for measuring and collating them. A 'genius' cannot communicate the 'thing-in-itself' through an inert object. Nor does their presence persist in it. Art objects cannot 'speak' to critics or artists and we do not, shamanistic-like, 'discern' the immaterial in them.
"Such notions bring up logical fallacies on closer analysis, which suggest that if they are not inexistent, then they are possibly unknowable to mere mortals. It may well be a yearning for the immaterial in a post-secular world, a claim to special powers beyond ourselves and over others. It is this that impacts those artists that are economically disadvantaged and not some teleological awakening of 'disenfranchisement.' However, I suggest in the essay that it is an appreciation for how we have come to reify metaphors that may free artists from their history of aesthetics and reunite them on less speculative (including the scientific) and more modest grounds. To this end, Parallax Art Fair is an attempt to metaphorise the internal contradictions in the 'art world' and to reflect the viewer-critic back at themselves."
Parallax Art Fair opens 21-22 February and will feature over two-hundred international artists from diverse backgrounds and with myriad artistic interests. Each artist has been "judged" on a case-by-case basis according to what they each believe about their objects. "An interesting question that we are posing," adds Barlow, "is whether it is 'ethically' right to judge artists on an arbitrary and historically discernible set of aesthetic assumptions about objects, thus consigning the majority of artists to the historical wastelands, or whether their economic situation, affordability and interest to satisfy the Public radically should now be taken into account as it used to be prior to nineteenth- and early-twentieth century dealers conflating Art History with marketing copy. I suggest in the essay that both are metaphors and to hierarchise them is to talk politics of display and not historical facts. We are long overdue of a conceptual overhaul in the visual arts and most of us all know it too."
Parallax Art Fair, 21-22 February 2014.
Opens:
Friday: 21st February 1pm – 8pm
Saturday 22nd February 11am – 5pm
Chelsea Old Town Hall
King's Rd
London
SW3 5EE
For more information call:
Jo: 01638 741 830
hello(at)spirusmarketing(dot)com