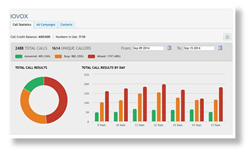 It helps enable our partners to sell a new value added service - Alex Danyluk, VP Alliances, Parallels
Lonon, UK (PRWEB) March 24, 2015
IOVOX, a global cloud-based provider of communications analytics for Enterprise and Small and Medium Businesses (SMBs), announced today that it has achieved certification from Parallels, a leading hosting and cloud services enablement provider. Having obtained certification, the IOVOX analytics solution is available on APS 2.0 version 5 and the upcoming version 6.
The Parallels Automation (PA) certification enables any hosting provider using the PA platform to easily and quickly enable important communications analytics solutions from IOVOX, making it possible for SMBs to purchase a subscription from their service provider via the Parallels self-service portal or store front.
"Achieving certification with Parallels is a tremendous milestone for IOVOX and creates significant growth opportunities for us to expand our reach through the Parallels partner ecosystem," said Ryan Gallagher, Founder and CEO of IOVOX. "Our analytics offering is an easy add-on service for hosting companies and telecoms around the world who are interested in delivering more value to their community of users."
Parallels is emerging as a global standard platform for the cloud enablement of a wide range of web and cloud-based applications.
"We are pleased to have a new category offering with IOVOX analytics that will help SMBs measure communications engagement with their customers," said Alex Danyluk, vice president Alliances, Parallels. "It helps enable our partners to sell a new value added service as a complement to their unified communications portfolio."
The IOVOX solution is accessible via the Parallels APS Catalog or by contacting the company directly.
About IOVOX
IOVOX provides global cloud-based analytics that measure communications engagement for Enterprise and Small and Medium Businesses (SMBs). Trusted by hundreds of thousands of businesses around the globe, the IOVOX analytics platform has been adopted by clients in 32 countries and across a wide variety of vertical markets empowering marketers and operational managers with transformative business insight. For more information visit IOVOX. Follow us on LinkedIn and Twitter.