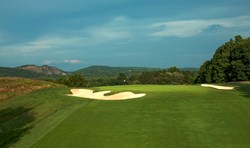 "This was a crowded category," said the editors in the magazine's January 2014 edition, "but no course or club was so completely transformed as Paramount."
New City, NY (PRWEB) December 17, 2013
Paramount Country Club in New City, New York—originally designed by "Golden Era" genius A.W. Tillinghast —has been named the best renovation of a private golf course in the United States for 2013 by Golf Magazine.
"This was a crowded category," said the editors in the magazine's January 2014 edition, "but no course or club was so completely transformed as Paramount."
The re-imagining of the 1920 original was overseen by architect Jim Urbina, who has become a leading restorer of legendary courses, especially those done by Tillinghast, whose other courses in the New York metropolitan area include Winged Foot, Bethpage, and Baltusrol.
"Tilly was a genius," says Urbina. "And while I'm very thankful for the recognition, in truth what I did was just the little things. When I first came to Paramount three years ago, I knew it was all there. We just had to peek around the trees to see it. Now it's back in the true spirit of Tillinghast: You can look from the greens and see other holes, other tees, mountains, and the valley. I opened it up a bit so golfers can enjoy the views and, most important, can see the artistry and genius of Mr. Tillinghast."
Paramount has a rich history, having been the private course of Adolph Zukor, founder of Paramount Pictures. Hundreds of movie stars and Broadway luminaries enjoyed the course, which spread across rolling terrain high above the Hudson River and featured the expansive views that Urbina restored. Known since the 1940's as Dellwood Country Club, Paramount was bought by private ownership in 2009 and remains a private club. Other amenities on site include tennis courts, pool, cottages, and other activities.
Besides this award, Paramount has been recognized by the USGA, which is using the course for two events in 2014. On May 7, it will be the site of local qualifying for the U.S. Open Championship (to be held June 12-15 at Pinehurst No. 2) and on September 23, Paramount will hold a qualifier for the newest USGA event, the U.S. Four-Ball Championship, which will be conducted for the first time on May 2-6, 2015, at The Olympic Club in San Francisco.
Nestled in the heart of Rockland County, Paramount Country Club is located a mere 35 minutes from Manhattan. For further information about Paramount Country Club or membership, access the web site at http://www.paramountcountryclub.com or contact membership director Kyla Basso at 845/634-4626.
# # #