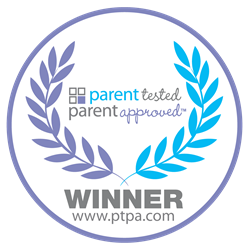 Ask any mom how she makes her purchasing decisions and she'll tell you she trusts other moms
NEW YORK (PRWEB) December 03, 2019
Leading consumer product awards organization, PTPA Media, today announced recipients of the coveted Parent Tested Parent Approved Seal of Approval. The results come after a thorough product approval process whereby consumers selected from a community of over 150,000 testers across North America put products to the test in the context of their daily lives.
"Shopping is changing. We're doing more online. We're expecting more in store. But with so many options, making the right choice can be more confusing than ever", says Sharon Vinderine, Founder and CEO of PTPA Media. That's the value of the PTPA Seal of Approval. It brings clarity and trust.
How Brands Build "Mom" Trust
"Over the years, there's been a lot of trust lost between consumers and brands, which is why we're seeing more scrutiny of brand marketing claims than ever before," explained Vinderine. "Ask any mom how she makes her purchasing decisions and she'll tell you she trusts other moms more than brand marketing,"
"Authenticity is the only currency that matters, and that comes from the assurance that other moms have experienced a product personally, and found that it met or exceeded their expectations. PTPA's Seal of Approval conveys this all at a single glance."
Winter 2019 Recipients of the PTPA Seal of Approval:
The Polysleep Baby Mattress
IQ Air Atem Personal Air Purifier
Zone Naturals Chub Rub - All Natural Anti Chafe Stick
Dyson Pure Cool Me (BP01)
Dyson Pure Hot + Cool (HP04)
Flying Start Online, Inc. Common Panda Hair Color Wax
P&G Pampers Cruisers 360 FIT diapers
Artsana Chicco PhysioForma Mi-cro Pacifier
Artsana Chicco PhysioForma Soft Silicone pacifiers
DS Services Nursery Water with Fluoride
DS Services Nursery Water without added Fluoride
Philips Avent Natural Bottles
Philips Avent Anti-colic bottle with AirFree vent
Philips Avent Comfort Manual Breast Pump
Philips Avent Comfort Single Electric Breast Pump
Philips Avent Comfort Double Electric Breast Pump
How Winners Are Determined
Parents across North America participate in the testing process, at no cost to them. They evaluate the products with their families in real life environments rather than simply conducting a consumer vote. Their feedback and evaluations are carefully tallied and curated, and products that meet their standards earn the coveted PTPA Seal of Approval, which can be leveraged on packaging, advertising, end-cap displays, and more. News of the victory is shared among our community of over 150,000 families.The PTPA Seal of Approval ranks among the top most recognized seals in North America.
About PTPA Media Inc.
PTPA Media certifies innovative products that families can trust. By connecting manufacturers with consumers, PTPA Media helps companies serve their markets better, and helps families identify products that have been tested and recommended by their peers. For more information visit http://www.ptpamedia.com.