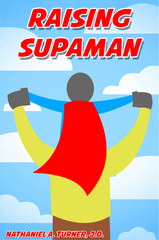 The experiences that I have had combined with the wealth of parenting information that I have accumulated may serve as an instructional manual for those hoping to give their children the best they have to give.
Carmel, Ind. (PRWEB) July 29, 2014
In a time when the African American community is often associated with negative statistics, a thought-provoking new book, Raising Supaman, dismisses many of the common misconceptions that people have about African American fathers and fathers in general.
"Raising Supaman provides readers with practical advice, proven methods and strategic instructions for assisting any parent or caregiver with helping a child dream and create a process to make those dreams a reality," said author Nathaniel A. Turner, J.D.
So far, Raising Supaman—which was released in March—has received favorable responses from the public. The book earned a 5 star review from About.com and has been well received by various radio and news outlets.
Raising Supaman is a testament to the exemplary, hands-on parenting of Nathaniel, an African American father who overcame the challenges of growing up in the inner city in Gary, Ind. to become a successful entrepreneur with a dual master's degree and a doctorate degree. And despite growing up without having a strong relationship with his father, Nathaniel resolved to focus on being an intentional, present and purposeful father to his son, Naeem.
Nathaniel has translated his experiences and insight into a number of products to assist other parents, including his new book, a blog, a YouTube video, a parenting course and mentoring curriculum. The Raising Supaman Academy and parenting apps are also under development. "Fatherhood is the best job in the world, but it is also the most challenging job I have ever had," he said. "To that end, I believe the experiences that I have had combined with the wealth of parenting information that I have accumulated may serve as an instructional manual for those hoping to give their children the best they have to give."
That's what Nathaniel did when raising Naeem, whom he affectionately refers to as "Supaman." Nathaniel did his best to foster a positive environment that would enable his son to fulfill his full potential. Consequently, Naeem is an amazing young man who has created an impressive resume throughout his life. Naeem, who works as a web designer and IT consultant, is fluent in Spanish, Portuguese and English. He recently authored a book entitled What Are We Gonna Do Today?, which will be released in August. The book seeks to encourage increased parental engagement and inspire early readers. This fall, Naeem will be attending Santa Clara University, where he will study computer science and engineering.
Naeem, 19, is a statistical anomaly who:
•began high school as a seventh grader and became a member of the National Honor Society as a freshman
•ranked among the top 1 percent in national academic measurements and was accepted in more than 20 of the nation's top colleges and universities
•became an accomplished athlete who played soccer on three continents, including in two of Brazil's top professional academies
•founded The Social JustUS League, which assists those who are underserved and underrepresented
•conducted an annual teen for jeans campaign and delivered care packages to the homeless
•traveled to San Francisco using his own money to learn about building sustainable institutions to care for the homeless (The Civic Week Project)
"I want to change the world," Nathaniel said. "I want every child to have what my son had—the childhood experiences and accompanying tools that will give them a chance to dream and see their dreams be realized."
Nathaniel maintains that America's most fundamental societal problem is not schools, guns or drugs; it's inept and unprepared parents. Children cannot pick their parents, he says, but parents have the wonderful opportunity to give children a chance to do better and be more than one could ever imagine. "The societal change that is needed in American communities, particularly urban neighborhoods, can't be achieved through government legislation," he said. "It can only be achieved by training parents to appreciate and honor the role of parents above and beyond any vocational title or position."
Raising Supaman is a very timely book that every father should read, regardless of their race, socio-economic status or geographic location. For more information, call 317-706-6768 or visit http://www.raisingsupaman.com.
About Nathaniel A. Turner
Nathaniel A Turner, J.D., is a successful entrepreneur, who has worked as a self-employed financial planner for 17 years. Prior to starting his own business, Turner Senior Advisors, he worked for a financial planning firm, a CPA firm and the IRS. He has earned bachelor's, master's and doctorate degrees in accounting, theology, history and law and has taught courses at Indiana Wesleyan University and DePauw University. Nathaniel also has garnered a variety of honors, including Fraud Referral and Employee Recognition awards from the IRS, as well as Outstanding College Students of America and Outstanding Young Men of America. In addition to being a consummate father and professional, Nathaniel holds several licenses from the National Association of Securities Dealers (NASD), a life and health insurance license and a preaching license from the African Methodist Episcopal Church. A self-described eclectic and modern renaissance, Nathaniel is a vegetarian who resides in Carmel, Ind.
###