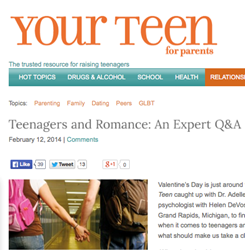 There is no rulebook for good parenting, but most parents share the common goal of raising and empowering independent teenagers...
Beachwood, Ohio (PRWEB) February 27, 2014
It can be every parent's dream or nightmare – seeing their son or daughter get into their first real romantic relationship as a teenager.
With so much conflicting information and even visuals available to teens on the Internet regarding sex, teenagers' typically private and often-rebellious attitudes towards their parents having to be considered, and the complications of social media in the 21st century also contributing to the mix, many parents worry that their teenage child will end up emotionally devastated, pregnant, saddled with a bad partner, or infected with an STD before they even turn 21 years old.
Yet, parents also want their teenagers to experience the fun and joys of these early, budding relationships that will help them prepare for finding the right partner down the road. Your Teen offers a series of articles and stories from parents that can presents a fresh perspective and insight on navigating the turbulent waters during their intense teenage years. They include:
"Teenagers and Romance: An Expert Q&A"
http://yourteenmag.com/2014/02/teenagers-and-romance
"The Language of Teenage Love"
http://yourteenmag.com/2014/02/teen-relationship-language
"Teenage Heartbreak"
http://yourteenmag.com/2013/04/teenage-heartbreak-2
"Most parents struggle with the amount of independence to give to their teens. They often vacillate between wanting to give their teenaged children freedom in a dating relationship, and wanting to chaperone them every step of the way," Your Teen Editor-in-Chief Susan Borison says. "There is no rulebook for good parenting, but most parents share the common goal of raising and empowering independent teenagers who look to you as a confidant and resource during their tumultuous teenage years. These articles and parent stories can certainly help."
As "The Language of Teenage Love" explains, "By far, the phenomenon of 'hooking up' is the most prominent phrase in the teen circle. These two words are all-encompassing and utterly vague, much to the dismay of curious parents. This can mean anything from first base to a home run (for those who miss the good old days of baseball metaphors) and generally refers to a couple that is in the early stages of modern-day courtship. Important to note is that the art of 'hooking up' doesn't immediately correlate to 'dating' in the traditional sense. Two people that are hooking up don't often go on dates or hang out as a couple in public spaces."
"Teenagers and Romance: An Expert Q&A" dives into issues such as how to tell if something could be amiss with your teenager's romantic relationship, with good advice from Dr. Adelle Cadieux, a pediatric psychologist. "Look for changes in how your teenager is interacting with other people," explains Cadieux. "For example, is he or she significantly decreasing time with other friends, even his or her closest friends? Is your teenager becoming more irritable, or even explosive, when you set limits on interactions with a dating partner? For example, if a parent sets a limit, like 'You can't go out tonight' or 'You need to be off the phone at a certain time,' and the teenager explodes with, 'I have to! I need to!'"
About Your Teen Magazine:
Your Teen addresses the challenges inherent in raising teens and helps parents of teens to continue the journey toward the goal of successful parent. In the magazine format, parents can post questions, offer personal tactics and hear the different perspectives of professionals, other parents and teenagers on relevant topics. Your Teen hopes to ease the worry.
Your Teen is available at http://www.yourteenmag.com/subscribe and in select Barnes & Noble Bookstores.