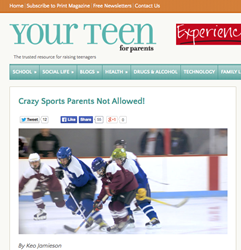 Our sports-oriented articles are designed to equip parents as they think through their choices and behavior.
Beachwood, Ohio (PRWEB) June 30, 2014
How some parents deal with teens and sports is the focus of a continuing series from Your Teen magazine, which recently released, "Crazy Sports Parents Not Allowed!"
The latest article offers the perspective of Keo Jamieson who shares his love of hockey and offers advice for how parents should maturely and responsibly approach sports. As his mother told him: "It's not worth it if you don't love it."
View the article here (others are referenced at the end):
http://yourteenmag.com/2014/06/sports-parents-crazy/
Keo notes that some scuffles can break out, but they're easily contrasted with traditional handshakes when a game is over. Parents, however, sometimes go to extremes. He recalls a "massive brawl" that parents set in motion.
Here's a small section of his advice:
"Because I love it, my parents have loved supporting me through it. They may not have loved the missing school, the hours of travel, the risk of paralyzing injury and the exorbitant cost of 'ice time,' but they've prioritized backing me. They knew that my chances of making it into the NHL, or even college hockey for that matter, were slim, but they were always there."
"Sometimes parents don't act as the role models teenagers need to see on a consistent basis," Your Teen Editor-in-Chief Susan Borison says. "Parents need to respect the sport, their sons and daughters, and the coaches. Public outbursts and fights are inexcusable. Our sports-oriented content is designed to equip parents as they think through their choices and behavior."
Other sports topics include:
"When Sports Go Wrong for Teenagers (and Parents)
http://yourteenmag.com/2013/08/teenagers-and-sports
Should Parents Push Sports Camp for Teen?
http://yourteenmag.com/2013/04/sports-camp-for-teens
About Your Teen Magazine:
Your Teen addresses the challenges inherent in raising teens and helps parents of teens to continue the journey toward the goal of successful parent. In the magazine format, parents can post questions, offer personal tactics and hear the different perspectives of professionals, other parents and teenagers on relevant topics. Your Teen hopes to ease the worry.
Your Teen is available at http://www.yourteenmag.com/subscribe and in select Barnes & Noble Bookstores.