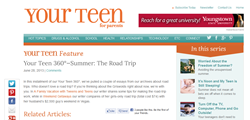 We're giving parents advice on how to make sure their kids have a fun and healthy summer before they return to school.
Beachwood, Ohio (PRWEB) July 24, 2013
Summer vacation is the focus of Your Teen 360°, a new series of reports from Your Teen Magazine for Parents.
In the series, Your Teen gives parents suggestions on how to handle their teens during the summer. Since August is frequently the most unstructured time - with no school, no camp and other activities winding down, teenagers have a lot more free time and parents sometimes struggle to keep them busy.
The series includes tips on taking a successful family road trip, keeping a reasonable amount of supervision over a teen, adjusting a teen's sleep schedule, and developing a summer routine for teens.
"Teens have a lot of time on their hands during the month of August," Editor in Chief/Publisher Susan Borison says. "We're giving parents advice on how to make sure their kids have a fun and, most important, healthy summer before they return to school again in the fall."
View the reports here:
http://yourteenmag.com/2013/06/your-teen-360-summer-the-road-trip/
The series includes input from Dr. Lisa Damour, a clinical psychologist and the Co-Director of the Center for Research on Girls at Laurel School; Officer Todd Bennett, Orange School Resource Officer; Dr. Jerri Rose, a pediatric emergency medicine specialist and assistant professor of pediatrics at CWRU School of Medicine; Dr .Sasha Carr, a sleep consultant with the Family Sleep Institute and founder of Off to Dreamland; and Dr. Russell Hyken, author of The Parent Playbook. The series also includes the perspective of several teens.
The reports cover:

How to manage teens' use of technology during the summer
How to handle the last few weeks of summer and prepare a teen for returning to school
How to keep a teen safe, healthy, and out of trouble in the summer
The benefits of encouraging a teen to find a summer job
Here are a few excerpts:
Handling the Freedom:
So how do parents balance their teens' need for freedom and relaxation with safety and productivity? Seasoned parents suggest sitting down with your adolescents to plan an enjoyable, safe and somewhat active summer experience. Issues to tackle might include freedom versus responsibilities, boredom prevention, safety and budgetary limitations and transportation options, but the summer possibilities for teens are endless.
Sleeping In:
Adjust the time your teenager heads to bed, but not by more than 90 minutes to two hours. "You're saying, 'I recognize it's summer and you can take it easy and stay up a little later and get up a little later,'" says Carr. "But if your teenager gets used to sleeping a lot later and getting up a lot later, he or she will be so miserable in the fall." Also, if your teenager has to be up early, then take that into account when deciding when it's lights out.
Turn Off the TV:
Your teens are done with school for the year, the weather outside is beautiful, you've got all the time in the world and your teens rush straight for the TV. How are you supposed to detach your teens from their screens during the summer? For starters, don't be fooled into a structure-free summer. Even though your teens may be overflowing with free time, you can still form a routine. That routine may consist solely of leisure activities, but it is a routine nonetheless.
About Your Teen Magazine:
http://yourteenmag.com
Your Teen addresses the challenges inherent in raising teens and helps parents of teens to continue the journey toward the goal of successful parenting. In the magazine format, parents can pose questions, offer personal tactics and hear the different perspectives of professionals, other parents, and teenagers on relevant topics. Your Teen hopes to ease the worry.
Your Teen is available in select Barnes & Noble. Subscriptions can be ordered at yourteenmag.com/subscribe