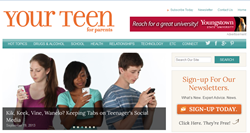 10,000 Small Businesses turned my passion into a business. And from the moment it began, our business has flourished.
Beachwood, Ohio (PRWEB) September 29, 2013
How did Goldman Sachs become a mentor to an entrepreneur who provides advice to parents with teenagers?
In the digital space of parental information services, there's a trove of content geared to parents of babies and younger children, but something seemed to be missing.
Susan Borison was looking for something herself as well, so she decided to take a risk and jump out of her comfort zone. She recognized a niche market, and with no business savvy, decided to take on the fear of the unknown.
Susan, a recent graduate of Goldman Sachs's 10,000 Small Businesses Program, is Editor-In-Chief/Publisher of Your Teen Magazine, one of the largest online resources for parents seeking advice and information on raising teenagers. The program, which is funded by Goldman Sachs, assists aspiring entrepreneurs with access to education, capital and support to keep their small business thriving. It's a program that Susan says will be invaluable to the growth of Your Teen.
"10,000 Small Businesses turned my passion into a business. And from the moment it began, our business has flourished," she says.
Your Teen developed out of personal passion but grew out of a universal need. Susan and her friend Stephanie Silverman saw that their own parenting concerns and fears resonated with most everyone they polled.
As they were wondering whether their teens' struggles were normal, or whether their parenting woes were typical, other parents were dealing with the same insecurities. Unfortunately, the books and magazines they had relied on when their children were younger didn't much help with teenagers. And so, Your Teen was born.
About Your Teen Magazine:
Your Teen addresses the challenges inherent in raising teens and helps parents of teens to continue the journey toward the goal of successful parent. In the magazine format, parents can post questions, offer personal tactics and hear the different perspectives of professionals, other parents and teenagers on relevant topics. Your Teen hopes to ease the worry.
About Goldman Sachs 10,000 Small Businesses :
Goldman Sachs 10,000 Small Businesses is a $500 million program that aims to unlock the growth and job-creation potential of 10,000 small businesses across the United States through greater access to business education, financial capital and business support services. The program is based on the broadly held view of leading experts that greater access to this combination of education, capital and support services best addresses barriers to growth for small businesses.  10,000 Small Businesses is guided by an Advisory Council co-chaired by Goldman Sachs CEO Lloyd C. Blankfein, Warren Buffett, and Dr. Michael Porter of Harvard Business School. The National Urban League, U.S. Hispanic Chamber of Commerce and Babson College are also represented on the Advisory Council, among other groups.