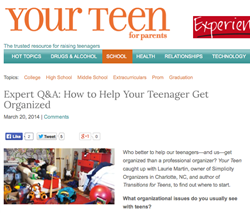 Teens today need all the help they can get to deal with the many distractions in their lives.
Beachwood, Ohio (PRWEB) March 27, 2014
It is undoubtedly the most frustrating time in a parent's life – dealing with the stormy, moody, frenetic and disorganized teenage years of their children. Kids who once kept their rooms clean and did well in school are suddenly missing assignments and getting bad grades from uncompleted work – even when the teen has actually done his or her work but then forgets to turn it in. What can be done to help teenagers who are having problems transitioning from children to adults?
"In many ways, today's teens have it tougher than we did, so we're trying to provide all the insight and tips we can to assist them (and their parents)," Your Teen Editor-in-Chief Susan Borison says. "The Internet, technology toys and tools, more stringent rules and requirements at school … teens today need all the help they can get to deal with the many distractions in their lives. And the new understanding on executive function and teens' brain development is helping experts to point the way down the right path of guidance for parents. These articles are all about those subjects."
As the article, "How a Parent Can Help a Disorganized Teen," explains it, "executive function is not what we tend to mean by intelligence. Rather, it's how our brains take what we know—say, how to solve an algebraic equation—and put it into action, like completing your algebra homework in time to hand it in the next day. Your teen may be bright, but if her brain can't act on what she knows, she can flounder. Why does it happen? In typical teens, it's thanks to normal development in the brain, namely the prefrontal cortex, which is primarily responsible for executive function."
Articles with proactive tips for helping teens become better organized (as their brains and bodies are still growing) include:
"Expert Q & A: How to Help Your teenager Get Organized"
http://yourteenmag.com/2014/03/help-your-teenager-organization
"How a Parent Can Help Organize a Disorganized Teen"
http://yourteenmag.com/2014/02/organizedor-not-does-it-really-matter
"Top Ten Ways to Help Your Teenager Get Organized"
http://yourteenmag.com/2014/03/help-your-teenager-get-organized
"Why Won't My Middle Schooler Hand In the Homework?"
http://yourteenmag.com/2014/02/disorganized-teenager
Featuring actual strategies for helping teens to help themselves succeed in their middle school and high school years, the Your Teen series provides refreshingly simple solutions based on the burgeoning understanding of human brain development. Here is part of an "Expert Q&A" article on getting teens organized:
"Teenagers should also purge and organize their rooms once a month instead of once a year. It is amazing how quickly candy wrappers, crumpled papers, used tissues, old magazines and outgrown clothes can accumulate in a short period of time. Organization is a life skill that people can learn at any age. The earlier you teach children organizational skills, the quicker they will develop and retain these critical skills. Organizing promotes freedom, balance and self-discovery. An investment in organizational skills training will help your teenager develop life skills that schools rarely address."
The entire series of teen organizational articles is available from Your Teen at http://www.yourteenmag.com/subscribe and in select Barnes & Noble Bookstores.
About Your Teen Magazine
Your Teen addresses the challenges inherent in raising teens and helps parents of teens to continue the journey toward the goal of successful parenting. In the magazine format, parents can post questions, offer personal tactics and hear the different perspectives of professionals, other parents and teenagers on relevant topics. Your Teen hopes to ease the worry of the teenage years.