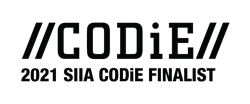 "Providing a great customer experience is at the heart of everything we do," Wadhwa continued. "Customer feedback guides some of our biggest product decisions, such as our Health Screening Form, a tool that has played a critical role in helping students, staff, and faculty return to campus safely."
SANTA BARBARA, Calif. (PRWEB) May 05, 2021
ParentSquare Inc., provider of the premier unified school-to-home engagement platform for K-12, announced their selection as a 2021 SIIA CODiE Award finalist in the new "Best Customer Experience in EdTech" category. The category finalists represent companies, products, and people that have gone the extra mile in response to COVID-19 in the education technology sector. The winner will be announced during the edtech CODiE Award Winner announcement celebration on June 23, 2021.
Acknowledged as the premier awards program for the software and information industries for over 35 years, the SIIA CODiE Awards are produced by the Software & Information Industry Association (SIIA), the principal trade association for the software, education, media, and digital content industries.
ParentSquare is the only fully unified product that engages every family with school communications and communications-based services—all the way from the district office to the classroom teacher, and all in one place. Schools know who's not being reached, and have the reports and tools to improve contactability and communications equity while maintaining privacy and security.
In anticipation of increased service needs early in the pandemic, the ParentSquare team scaled platform capacity and infrastructure to ensure zero service interruptions for customers despite an influx in school-home communications, which remained at record levels well after schools closed down. The marketing team halted lead generation efforts to solely focus on producing resources for customers—including 36 consecutive days of remote K-12 communications tips featured on the company blog and in email.
In judges' comments, one "really liked that ParentSquare started with the reliability and scalability to ensure [a] positive customer experience." A judge also applauded the "smart incorporation of social media" and "appreciated the concern to not pressure customers for sales during high-pressure times."
As district and school needs continued to change, ParentSquare conceived and developed an embedded COVID-19 Health Screening Form over the summer to support customers as they navigated an unconventional return to school. To date, upwards of 16 million COVID-19 health screenings have been completed through the platform.
"We are honored to be named as a finalist," said Sohit Wadhwa, CEO of ParentSquare. "As schools transitioned to remote learning, we mobilized to support customers with rapid rollouts of the ParentSquare platform to 450 new districts between March and July—overnight, in some cases."
"Providing a great customer experience is at the heart of everything we do," Wadhwa continued. "Customer feedback guides some of our biggest product decisions, such as our Health Screening Form, a tool that has played a critical role in helping students, staff, and faculty return to campus safely."
Details about each finalist are listed at https://history.siia.net/codie/2021-finalists.
About ParentSquare™
ParentSquare is relied upon by millions of educators and families in over 44 states for unified, effective school communications. ParentSquare provides parent engagement tools that work from the district office to the individual classroom, supported by powerful metrics and reporting. ParentSquare's technology platform features extensive integrations with student information and other critical administrative systems, translation to more than 100 languages, and app, email, text, voice, and web portal access for equitable communication. ParentSquare (http://www.parentsquare.com), founded in 2011, is based in Santa Barbara, CA.
About the SIIA CODiE™ Awards
The SIIA CODiE Awards is the only peer-reviewed program to showcase business and education technology's finest products and services. Since 1986, thousands of products, services, and solutions have been recognized for achieving excellence. For more information, visit siia.net/CODiE.
About Software and Information Industry Association (SIIA)
SIIA is the only professional organization connecting more than 700 data, financial information, education technology, specialized content and publishing, and health technology companies. Our diverse members manage the global financial markets, develop software that solves today's challenges through technology, provide critical information that helps inform global businesses large and small and innovate for better health care and personal wellness outcomes.