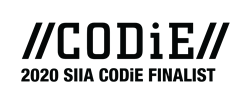 We're delighted to be named an award finalist in this category. With the majority of schools rapidly moving to extended remote learning due to the COVID-19 pandemic, parent engagement and action is more important than ever. — Sohit Wadhwa, CEO & co-founder
SANTA BARBARA, Calif. (PRWEB) April 02, 2020
ParentSquare, provider of a unified school-to-home engagement platform for K-12, today announced their selection as a 2020 SIIA CODiE Award finalist in the Best Collaborative Community Solution for Educators category. Award finalists represent applications, products and services from developers of educational software, digital content, online learning services and related technologies across the PreK-20 sector.
ParentSquare's parent engagement tools are used by schools and districts in more than 44 states to facilitate interactions with families. District office alerts, classroom communication, direct messaging, forms, volunteering, attendance, learning resource sharing and much more are managed through a single, unified platform. Powerful metrics and reporting make it easy to track overall engagement levels and measure the success of each school-to-home communication.
"We're delighted to be named an award finalist in this category," said Sohit Wadhwa, CEO and co-founder. "With the majority of schools rapidly moving to extended remote learning due to the COVID-19 pandemic, parent engagement and action is more important than ever."
Wadhwa continued, "We're honored to support K-12 educators who are currently working hard to connect with parents and make it all work."
Acknowledged as the premier awards program for the software and information industries for 35 years, the SIIA CODiE Awards are produced by the Software & Information Industry Association (SIIA), the principal trade association for the software, education, media and digital content industries. ParentSquare was honored as one of four finalists in their category.
"We are thrilled to unveil the 2020 CODIE Award finalists, the best in education technology," said SIIA President Jeff Joseph. "These exciting innovations are setting the pace to improve outcomes in education for students, educators, and administrators."
The SIIA CODiE Awards are the industry's only peer-reviewed awards program. Educators and administrators serve as judges and conduct the first-round review of all education nominees. Their scores determine the SIIA CODiE Award finalists and account for 80% of the overall score. SIIA members then vote on the finalist products. The scores from both rounds are tabulated to select the winners.
Education Technology category winners will be announced during an online winner announcement celebration on May 19, 2020.
Details about each finalist are listed at http://www.siia.net/codie/2020-Finalists
About ParentSquare
ParentSquare is relied on by millions of educators and families in over 44 states for unified, effective school communications. ParentSquare's parent engagement tools work from the district office to the individual classroom, supported by powerful metrics and reporting. ParentSquare's technology platform features extensive integrations with student information and other critical administrative systems, translation to more than 100 languages, and app, email, text, voice and web portal access for equitable communication. ParentSquare (http://www.parentsquare.com), founded in 2011, is based in Santa Barbara, CA.
About the SIIA CODiE™ Awards
The SIIA CODiE Awards is the only peer-reviewed program to showcase business and education technology's finest products and services. Since 1986, thousands of products, services and solutions have been recognized for achieving excellence. For more information, visit siia.net/CODiE.
About Software and Information Industry Association (SIIA)
SIIA is an umbrella association representing 800+ technology, data and media companies globally. Industry leaders work through SIIA's divisions to address issues and challenges that impact their industry segments with the goal of driving innovation and growth for the industry and each member company. This is accomplished through in-person and online business development opportunities, peer networking, corporate education, intellectual property protection and government relations. For more information, visit siia.net.