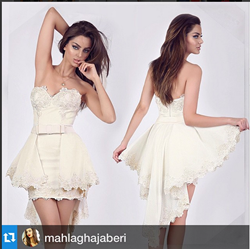 Los Angeles, California (PRWEB) May 30, 2015
Paris Dress, one of the largest fashion websites for fashionable dresses, has announced its collaboration with renowned design house Faviana in addition to many more top US and international designers. Shoppers now get to enjoy a myriad of spring and fall prom dresses, cocktail dresses and evening dresses all under one roof, shipped to their door at no cost on orders of $300 or more.
The team at Paris Dress (http://www.parisdress.com) has announced that the collaboration with Faviana will give shoppers access to over 5,000 pieces within the site's extensive inventory. Special occasion dresses are merely a click away, securing Paris Dress' fate as one of the simplest and most fun sites to use when shopping for dresses. The company already collaborates with top names such as Mac Duggal, Tony Bowls, Tarik Ediz and Dave and Johnny. Adding Faviana's name to the elite list will greatly benefit everyone already on board.
Based in Los Angeles, ParisDress.com was founded by a team of engineers and fashion experts to bring the unique, fun and easy online shopping experience to fashion lovers. The company's goal is to make women feel good about themselves and every stage, from the wide collection of designer dresses to excellent customer service and the attention to the details of their website design and state of the art technology that was used to build it, was created with the idea of making the online shopping experience fun and easy.
Paris Dress LLC (http://parisdress.com/) has collaborated with fashion models such as Mahlagha Jaberi, who became a regular client of Paris Dress after she was enticed by the myriad of styles, sizes, materials and brand names available under one roof. She and her fans are now able to enjoy a wide variety of dresses for all special occasions.
According to Jaberi, "Some of the prettiest dresses I've ever worn are by Paris Dress. If you are looking for the perfect dress, head here, as it is the place to be." From prom dresses and cocktail dresses, to sexy dresses and date night dresses, nothing is lacking at Paris Dress.
In line with Jaberi's comment, her fans now get a special offer when they shop at ParisDress.com. All they have to do is enter the code "MAH" at checkout and they will be entitled to a special deal. Not just that, they will also be sure to go through one of the most pleasant online shopping experiences possible. From shopping for designer labels like Faviana to being pampered by the site's in-house stylists, Paris Dress has it all.
To check out Paris Dress' inventory or to find out more about Faviana, head to http://www.parisdress.com or call (855) 804-0515 today.