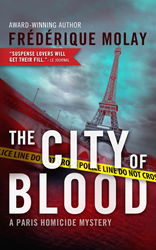 A classy French police procedural.
New York, New York (PRWEB) January 20, 2015
Mystery and thriller publisher Le French Book just released another title in the prize-winning Paris Homicide series by international bestselling author Frédérique Molay. The City of Blood hits bookstores on January 20. It is a story about dealing with loss and has been characterized as "a classy French police procedural." Art and history combine with suspense and intrigue, transporting readers to present-day Paris for another mystery by an author who can "give CSI writers a run for their money."
Librarians are already calling The City of Blood "an excellent read," and booksellers are recommending it "if you like reading mysteries with good descriptions of the physical setting."
When a major Parisian modern art event gets unexpected attention on live TV, Chief of Police Nico Sirsky and his team of elite crime fighters rush to La Villette park and museum complex. There, renowned artist Samuel Cassian is inaugurating the first archeological dig of modern art, three decades after burying the leftovers of a banquet. In front of reporters from around the world, excavators uncover a skeleton. Could it be the artist's own son? And does that death have anything to do with the current string of nightclub murders by the "Paris Butcher"? On the site of the French capital's former slaughterhouses, the investigation takes Nico and France's top criminal investigation division from artists' studios to autopsy theaters and nightclubs in hopes of tracking down the murderer who has turned this Paris park into a city of blood.
Other titles in the series are The 7th Woman and Crossing the Line, both released in 2014.
Praise
"A taut novel, with likable characters and optimism. Fresh and a real pleasure to read." —Blue Moon
"With a little bit about art, and the history of Paris thrown in, this was an intelligent read that I particularly enjoyed." —Eurocrime
"A story that the fans of quality crime fiction will surely enjoy." —Crime Factory Magazine
"Once again an absorbing page-turner based on an unusual original murder." — Netgalley review
"Well written, set up in a unusual surrounding, The City of Blood is a real refreshment for all those crime-fiction lovers who want to try something different. Totally recommended." —Chic Library Cat
"A splendid police procedural set in Paris with very complex characters, exciting plot twists, beautifully written, and quite informative as well. I must mention the magnificent translation by Jeffrey Zuckerman... it is fantastic!" —Fresh Fiction
"Another excellent well-written book from Le French Book. The characters feel quite real and the plots are believable, for me this was a page turner. Really enjoy books from this publisher, very strongly recommend." —Reviewer
Read an excerpt
http://www.lefrenchbook.com/the-city-of-blood
Find in a local bookstore
http://www.indiebound.org/book/9781939474186
The book
The City of Blood by Frédérique Molay; translated by Jeffrey Zuckerman —published by Le French Book — ISBN: 9781939474186 (trade paperback)/ 9781939474179 (e-book)/ 9781939474193 (hardback)— Release date: January 20, 2015
About Le French Book
Le French Book (http://www.lefrenchbook.com) is a New York-based publisher dedicated to bringing France's best crime fiction, thrillers, novels, short stories, and non-fiction to new readers across the English-speaking world. Its motto is: "If we love it, we'll translate it."
©2015 Le French Book, Inc. All rights reserved. Information is subject to change without notice.