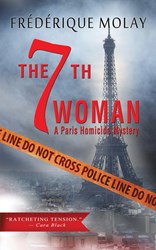 An extraordinary, hard-hitting novel.
New York, New York (PRWEB) February 21, 2014
Tick-tock. The clock is ticking for a special weekend countdown deal, just as it is for Paris homicide detectives in the chilling mystery up for grabs: The 7th Woman, by Frédérique Molay. In a race to catch a serial killer in the French capital, Chief of Police Nico Sirsky and his crack homicide detectives are on tenterhooks as the killer gets closer and closer to their inner circle. The story has nail-biting tension and a fascinating behind-the-scenes view of French police and forensics procedure.
Molay writes the kind of suspense "that makes you miss your subway stop," says one radio reporter. She combines spot-on police procedure, chilling forensic details, and edge-of-your-seat suspense. It's like the series Bones or CSI moving to Paris.
The book won France's most prestigious crime fiction award, was named Best Crime Fiction Novel of the Year, and is an international bestseller with over 150,000 copies sold.
Currently available in English on Kindle, the mystery and thriller publisher Le French Book will drop the price to 99 cents on Friday, February 21. The deal lasts until Monday, the price inching its way over the weekend back to the usual price of $9.95.
This is the start of the Paris Homicide mystery series. The print edition will be released this summer. Anne Trager, the founder of Le French Book says, "The second book in the series, Crossing the Line, is scheduled for release later this year. We're busy polishing off the translation and wanted to give readers a chance to enjoy the first one."
Praise for The 7th Woman
"A taut and terror-filled thriller. Frédérique Molay navigates French police procedure with a deft touch, creating a lightning-quick, sinister plot with twists and turns that kept me reading late and guessing to the very end. Inspector Nico Sirsky is every bit as engaging and dogged as Arkady Renko in Gorky Park." —New York Times bestselling author Robert Dugoni
"Blends suspense and authentic police procedure with a parallel tale of redemption. Well-drawn characters and ratcheting tension won't let you put the book down. I read this in one sitting." —Paris mystery writer Cara Black
"A slick, highly realistic, and impeccably crafted thriller. Likable characters, outstanding pacing, and unexpected plot twists keep readers guessing throughout…an extraordinary, hard-hitting novel." —Foreword Reviews
The author
Frédérique Molay graduated from France's prestigious political science school Science Po and began her career in politics and the French administration. She worked as Chief of Staff for the Deputy Mayor of Saint-Germain-en-Laye, and then was elected to the local government in Saône-et-Loire. Meanwhile, she spent her nights pursuing a passion for writing she had nourished since she wrote her first novel at the age of eleven. After The 7th Woman took France by storm, Frédérique Molay dedicated her life to writing and raising her three children.
About Le French Book
Le French Book is a New York-based publisher specialized in great reads from France, with a growing catalog of top contemporary mysteries and thrillers with a French touch.
©2014 Le French Book, Inc. All rights reserved. Information is subject to change without notice.