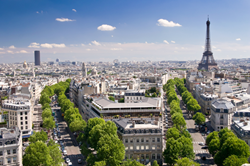 Both Paris and London are justifiably renowned as compelling city break holiday destinations yet, although only an hour's flight apart, offer visitors entirely different travel experiences.
(PRWEB UK) 22 May 2014
The attractions of Paris are legendary; bisected by the romantic River Seine, the city is a feast for the senses and home to an incomparable collection of the finest artworks, gastronomy, historic buildings and gardens, and famous landmarks. As such, the beautiful 'ville-lumière' – 'city of light' - continues to win almost as many tourism awards as it does new admirers. The respected Lonely Planet travel guide has awarded Paris 'Best in Travel 2014' status and the city holds fourth place in Alpha Holiday Lettings' annual selection of the world's ten best holiday rental destinations.
It is testimony to the enduring appeal and beauty of Paris that the city consistently holds its own against rival European cities including Rome, London, Barcelona and Prague. The overall popularity of these cities with visitors is a closely-fought contest, however.
According to statistics compiled by MasterCard's Global Destination Cities Index, for example, in 2013 London attracted 16 million international overnight visitors in 2013 finishing slightly ahead of Paris where overnight stays totalled 14 million. Both cities are justifiably renowned as compelling city break holiday destinations yet, although only an hour's flight apart, offer visitors entirely different travel experiences as demonstrated by Alpha Holiday Lettings' helpful London versus Paris infographic.
In addition to its millions of visitors from the western world, Paris is now attracting a reputation as a desireable holiday destination as Asia's appetite for European travel grows. According to Reuters news agency, France receives approximately 1.4 million visitors from China each year with each of these visitors spending, on average, 1,500 Euros. A move by the French government to reduce the Visa approval timescale to 48 hours for Chinese visitors has resulted in a 40% year-on-year increase in Visa applications. Consequently, China now represents France's second largest visitor-market after the USA.
Paris itself, according to the BBC, receives ten times more visitors from China than London does and in the summer of 2014 Chinese police officers will be patrolling some of the city's most famous tourist hotspots and landmarks to help ensure the safety and protection of Asian visitors.
As ever-increasing numbers of visitors from across the globe descend upon Paris to experience attractions ranging from the historic artworks of the Louvre to the thrills of Disneyland Paris, holiday rental properties are inevitably in high demand all year round. Boasting a vast range of stylish rental villas, houses and apartments to suit the taste and budget of every visitor, the seductive, enchanting and romantic city of Paris is fully deserving of its high placement in Alpha Holiday Lettings' list of the top 10 holiday destinations in 2014.
About Alpha Holiday Lettings
Alpha Holiday Lettings has rapidly established itself as one of the top holiday rentals portal sites in Europe and offers self-catering apartments, cottages and holiday villas in France, England, Spain, Portugal, Italy, Cyprus, Turkey and other destinations around the world. The majority of the properties listed on Alpha Holiday Lettings are privately owned and are booked directly with holiday home owners. Click here to visit their website.