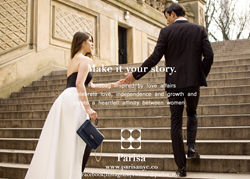 "I created the Love Affair Handbag collection to explore and show how much love and fashion overlap." Parisa Pan Wang Says.
NEW YORK, NY (PRWEB) April 20, 2016
US-based fashion label Parisa launches a Kickstarter campaign to precede Love Affair line's debut on May 2nd 2016. Parisa Pan Wang, the lead designer, came up with an innovative way to let customers identify with her products. Buyers will select the suitable handbag depending on their relationship status. With top-quality handbags boasting exquisite and original design, the Love Affair collection is meant to satisfy different women's needs depending on their style and necessities. Made from genuine calfskin, the bags come in different shapes and sizes and range from $200 to $500 in retail price.
"Growing up in China made me see that uniformity is not the way to go about fashion," says Parisa Pan Wang. "Everyone goes through a unique set of experiences in their lives and those experiences should be encouraged to find reflection in one's style. Amorous relationships are a huge part of every woman's process of self-discovery." Therefore, the designer created the Love Affair collection to prove how much love and fashion overlap.
To build a strong community amongst the customers is the ultimate goal of Parisa. The brand is built by girls and empowers girls. It presents more than just a line of products. Each handcrafted handbag is meant to serve as a symbol of independence found through a sense of belonging and empowerment. All handbags come with a unique QR code. It gives the customer access to its website and blog.
The handbag owner may then participate in discussions, events and real life meet-ups with other members. A personal misfortune was Parisa's inspiration. As soon as she recovered, she realized she owed it to incredible peer support. Then she saw that so many women struggle with problems on their own, so few happen to find an empowering environment to flourish in. Parisa knew she had to act and use her biggest love, fashion, to bring people together.
The launch will go accompanied by a Kickstarter presale event on May 2nd 2016. The official e-commerce launch is planned for late May, 2016.
Find out more and follow us to receive the latest updates -
Facebook @ParisaLoveAffair http://facebook.com/parisaloveaffair/
Twitter @Parisa_NYC http://twitter.com/parisa_nyc
Instagram @ParisaLoveAffair http://instagram.com/parisaloveaffair/