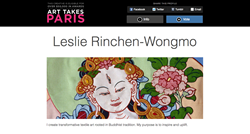 These images are designed to empower and transform, calling forth people's innate love, compassion, and discernment.
Oxnard, CA (PRWEB) August 20, 2013
Leslie Rinchen-Wongmo, California Buddhist textile artist of Threads of Awakening has entered her silk appliqué thangkas in the worldwide contemporary art competition Art Takes Paris!
Organized by See.Me, the contest offers artists the possibility of international publicity, an exhibit in Paris, and $20,000 in cash awards. If Rinchen-Wongmo wins an award, her winnings will further the development of Stitching Buddhas, an online teaching program through which she documents and shares the Tibetan appliqué tradition with creative Buddhist fabric lovers around the world.
See.me (originally founded as 'Artists Wanted' in 2007) is a web-based arts organization located in New York City. The organization is dedicated to supporting artistic talent, harnessing online creative communities, and promoting artists' work.
In 2012, See.me teamed up with non-profit arts organization chashama and the Times Square Alliance to host 'Art Takes Times Square'. 35,000 artists entered that competition. Grand prize winner, Vicki DaSilva, had her chosen work, 'Jasmine/Never Sorry (for Ai Weiwei)' shown on several Times Square billboards from the unveiling event on June 18 through to July 31, 2012.
Approximately 5000 other competition participants had their work shown on specially erected digital billboards at the June 18, 2012 event.
See.me's current competition, "Art Takes Paris," is open to all artists around the world. Organizers say they're looking for all types of innovative work including Sculpture, Installation, Painting, Photography, Design, Illustration, Film, Video, Performance, Sound, New Media and more! Though textile art is not explicitly mentioned, Rinchen-Wongmo trusts that it is included under the wide umbrella of "all types of innovative work." Submissions are made online.
Art Takes Paris judges include Dita Amory (curator at the Metropolitan Museum of Art in New York City), Eric Shiner (director of the Andy Warhol Museum), Adrian Turner (senior director at the Marianne Boesky Gallery) and Annette Hofmann (international director of the Lisson Gallery for Milan & London).
One artist -- selected by the judges on the basis of uniqueness, skill and ambition -- will be awarded the Grand Prize: a feature exhibition in Paris' Galerie 66, $10,000 total cash (including a $5,000 grant to produce new work for the show plus a $5,000 cash prize), a publicity campaign in both Paris and New York and an online feature promoting the artist's work internationally.
The contest also includes a People's Choice component. The People's Choice Award recipient will be determined by the public, voting online. Visitors to the Art Takes Paris site can vote for their favorite entry during the Online Voting Period, which ends August 27, 2013. And voters are welcome to cast multiple votes as long as they wait 24 hours in between. The artist with the most votes will receive the People's Choice Award of $10,000 cash.
The People's Choice winner and the top 100 runners-up will also receive online features, gaining worldwide exposure. In addition, all entrants with more than 19 votes get featured on See.Me's Facebook page, which has over 300,000 Likes.
Rinchen-Wongmo invites fans of her art to make voting a morning practice from now through Aug 27, and to encourage their friends to vote too.
Sacred art based in ancient tradition is probably not what the Art Takes Paris judges are expecting to see. Most entries are likely to be more strictly contemporary. But while Tibetan appliqué is a traditional art form, Rinchen-Wongmo's execution of it is contemporary. She incorporates new fabrics and machine quilting into her most recent sacred works and applies traditional techniques to nontraditional photo-based imagery.
In addition, the inspiration that sacred Buddhist imagery provides has never been more relevant. These images are designed to empower and transform, calling forth people's innate love, compassion, and discernment.
Rinchen-Wongmo hopes viewers in Paris and on the internet will be uplifted by her art and inspired both to vote for it and to live their very best lives.
Readers interested in learning more about sacred textile art can visit the Threads of Awakening website at http://threadsofawakening.com or go directly to the images and vote at http://leslierinchenwongmo.see.me/atp2013
For more information about the Art Takes Paris competition, visit http://www.arttakesparis.com/