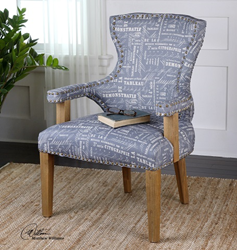 Found texts, like manuscript pages or musical notation, have become a popular form of artwork. Simple off-white upholstery beautifully mimics aged parchment, making accent chairs a nice alternative medium for these unconventional "patterns."
(PRWEB) October 14, 2014
HomeThangs.com – the Online Home Improvement Store has made their goal to deliver the right product to the consumer. With that in mind, shopping and home design tips, as well as special product selections are being introduced.
Upholstered chairs have long been a staple of traditional design, but lately they've found new life as a casual, contemporary accent. The difference is in the upholstery: instead of a lush, plush, expensive material, these chairs are covered in simple linen or canvas, and instead of a very traditional pattern, the material is printed with hand written script or old fashioned, industrial style print. HomeThangs.com has introduced a guide to these less-than-traditional accent chairs, as well as a few features to look for.
Eclectic, reclaimed, and upcycled furniture and decor items have seen a huge uptick in popularity lately, and these distinctive chairs fit right in. Combining antique chair styles with very simple upholstery is a good baseline for a look that merges old and new, but it's the print that makes them really stand out. Usually done in elaborate handwriting (or strongly period inspired, stamp-style prints), these chairs mimic the "found" look of antique documents that are increasingly being used as artwork.
For an added twist, the text, whether "hand" written or printed, is usually in French for a vintage Parisian look and feel. The designs of the chairs themselves often mimic French antique design as well, though this isn't always the case, while the use of simple, humble fabric keeps the chairs from feeling too fancy to sit on.
While chairs are the most common, HomeThangs.com's new guide also looks at a few other types of furniture this unusual style has been applied to. To find out more, check out the full article here.
HomeThangs.com is not only a home improvement superstore, it also provides expert design tips and a comprehensive shopping guide, taking the ideas from professional interior designers, and offering tips to the consumers on how to pick the products to best suit their needs.