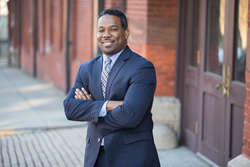 "I am grateful to Mr. Hurley and the board for this opportunity and I look forward to working with the staff and Park Heights community," Bridges said. "It feels good to be able to support the work to improve the community where I was raised."
Baltimore, MD (PRWEB) February 15, 2017
Park Heights Renaissance (PHR) today announced that Tony Bridges has been named Director of Human Services and Operations. A Baltimore and Park Heights native, Tony was previously the Director of East Baltimore Community Affairs for Johns Hopkins before joining Park Heights Renaissance. In this new role, Tony will oversee administration, community relations, education and operations for the non-profit organization.
Said Executive Director, Cheo Hurley, "Tony brings a wealth of experience in community engagement from his time working to effect change at the city and state level in the Mayor's Office of Neighborhoods and with the Governor's Office of Community Initiatives. We are looking forward to him bringing that knowledge and expertise to Park Heights Renaissance as we continue to work to improve the Park Heights community."
Bridges earned a Bachelor's Degree in Mass Communications from Frostburg State University. He received his certificate in Strategic Public Relations and Integrated Communications from Towson University. He is a former Ronald E. McNair Post-Baccalaureate Scholar, where he researched public perception and communication at the University of Maryland at College Park and is also a Fellow of the Academy of Excellence in Local Governance through the University of Maryland.
Tony is active in the community and serves on the board of VLINC, a non-profit organization that creates technological solutions to improve the independence and quality of life for individuals of all ages with disabilities.
"I am grateful to Mr. Hurley and the board for this opportunity and I look forward to working with the staff and Park Heights community," Bridges said. "It feels good to be able to support the work to improve the community where I was raised."
About Park Heights Renaissance 
Park Heights Renaissance is a non-profit 501(c)(3) organization representing businesses, religious institutions, schools, agencies, and other stakeholders committed to shaping a better future for Park Heights. The geographic footprint of PHR is 1,500 acres -- almost twice the size of Central Park in New York -- comprising a diverse group of more than a dozen neighborhoods. The mission of Park Heights Renaissance (PHR) is to help implement the Baltimore City Park Heights Master Plan, drive land and economic development, and partner with human development organizations that are transformative influences in the revival of a thriving and sustainable community. For more information please visit http://boldnewheights.org/