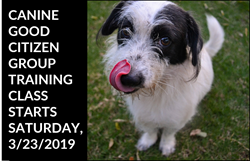 "This class is ideal to cement key behaviors with your dog, because it is a controlled environment, while you still have the 'distractions' of the real world in that there are other dogs and people around." Joette White, President of Park Cities Pet Sitter
DALLAS (PRWEB) February 14, 2019
Dallas and Plano pet sitting and dog walking company, Park Cities Pet Sitter, has just announced a new group dog training class beginning Saturday, March 23rd, 2019. The class will run for six consecutive weeks, and will take place from 2:30pm to 3:30pm each Saturday in the outdoor courtyard at 5831 McCommas Blvd in Dallas. The class will be taught by Park Cities Pet Sitter dog trainer, Valerie Fry, who is a certified AKC Canine Good Citizen evaluator.
Dogs partaking in the class will learn and practice the ten skills required to pass the AKC Canine Good Citizen Test. Some of the skills include: coming when called, sit and down on command, staying in place, being non-reactive when meeting another dog or human, and sitting politely for petting, amongst others important behaviors. The first five weeks of class will be devoted to acquiring and honing these skills, and the test will be administered to students on the sixth and final week of class.
The cost to join the 6-week group dog training class is $180. Dogs participating in the class that pass the Canine Good Citizen Test upon culmination may choose to receive an official certificate of acknowledgement from the American Kennel Club. There is a $10-$20 additional fee for the official AKC certificate, based on whether the dog is already registered with the American Kennel Club.
Each dog that joins the class must have at least one adult handler, and a maximum of 8 dogs will be allowed to participate in total.
Joette White, President of Park Cities Pet Sitter, said that the Canine Good Citizen group dog training class is ideal for dog owners who want to learn the best techniques for teaching good canine behavior, while enjoying the camaraderie that a group learning environment provides. "We have received such great feedback about this class because everyone learns a lot, and gets to practice in real world situations," said White. "Everyone can relate with how easy it is to teach a dog a certain behavior in the quiet of your own home, but then you take the same dog out in public and they seem to completely forget everything they learned. This class is ideal to cement key behaviors with your dog, because it is a controlled environment, while you still have the 'distractions' of the real world in that there are other dogs and people around. The great thing is that all of these people and dogs are practicing the same things you are! The difference we see in the dogs and handlers from Week One to Week Six is truly amazing."
To learn more about the AKC's Canine Good Citizen Test criteria, visit https://www.akc.org/products-services/training-programs/canine-good-citizen/training-testing/.
To learn more about Park Cities Pet Sitter's upcoming dog training class, or to sign up, visit http://www.pcpsi.com/events.
About Park Cities Pet Sitter: PCPSI has served the Dallas, Richardson and Plano areas 7 days a week, 365 days a year since 1992, and was recently named the 2017 Business of the Year by the National Association of Professional Pet Sitters. Dog walking, pet sitting, pet taxis, overnight sitting, pet supply shopping, and dog training are some of the many services PCPSI offers. Park Cities Pet Sitter is bonded and insured, and all sitters are employees--not independent contractors. A manager is on-call 24 hours a day to handle any emergencies. Go to http://www.pcpsi.com to learn more.