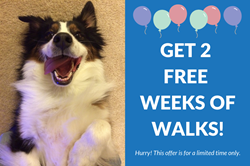 "We know clients want to feel comfortable with who is coming into their home, so we strive for consistency in service, and that includes having consistent staff." Joette White, President of Park Cities Pet Sitter
DALLAS (PRWEB) April 16, 2019
Park Cities Pet Sitter has recently announced a spring promotion where new clients to the company can get two free weeks of dog walking service. Pet owners who commit to two months of recurring dog walk service with the company will receive two of those weeks free during that time. Park Cities Pet Sitter defines recurring dog walks as any ongoing pet service need that is on a set schedule. A client would need to utilize a minimum of three walks/visits per week on a set schedule in order to qualify for the promotion.
The company's dog walk service can be dog walking at any time of day, backyard exercise or midday "potty" breaks. It is ideal for pet parents who have new puppies, senior dogs, or for dogs that simply need regular exercise to stay healthy. All new clients to Park Cities Pet Sitter are eligible to utilize the promotion, in addition to existing company clients who have not utilized dog walk service in the last twelve months. Park Cities Pet Sitter serves much of the Dallas, Richardson and Plano areas, and the promotion is dependent on the client residing in the company's service area and staff availability.
Joette White, President of Park Cities Pet Sitter, says that spring is a great time of year to take advantage of the company's promotion, since the city's weather is finally turning warmer. "Dogs really love this time of year, with the great temperatures and spring flowers," says White. "With everything blooming again, dogs just love exploring the great outdoors and smelling what nature has to offer. The two weeks of free dog walks promotion is a great incentive for people to try our service for the first time, and hopefully they will love what we do and become clients for life."
White emphasized the longevity of her company in the market and her experienced staff as the primary reasons people use and recommend Park Cities Pet Sitter. "Our staff are employees. They go through thorough screening, background and reference checks before being hired, and receive ongoing training on pet behavior, first aid and CPR while with the company. We know clients want to feel comfortable with who is coming into their home, so we strive for consistency in service, and that includes having consistent staff. One of our proudest statistics is that the average Park Cities Pet Sitter employee has been with the company for five years. We try to make this a great place to work so our staff will, in turn, treat our clients well. It is our secret sauce, and something our competitors simply have not been able to duplicate."
Details about the two free weeks of walk promotion, are available at:
https://23c7c6.campgn4.com/Get-2-Weeks-of-Free-Dog-Walks.
Each promotional month during the 2 month period must be prepaid and consecutive. The 4th week of the month will be the free week for participants.
About Park Cities Pet Sitter: PCPSI has served the Dallas, Richardson and Plano areas 7 days a week, 365 days a year since 1992, and was recently named the 2017 Business of the Year by the National Association of Professional Pet Sitters. Dog walking, pet sitting, pet taxis, overnight sitting, pet supply shopping, and dog training are some of the many services PCPSI offers. Park Cities Pet Sitter is bonded and insured, and all sitters are employees--not independent contractors. A manager is on-call 24 hours a day to handle any emergencies. Go to http://www.pcpsi.com to learn more.