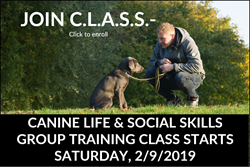 "Learning how to reinforce good dog behavior in a class like this just opens up a world of possibilities for a dog that is able to maneuver different environments and situations with ease." Joette White, President of Park Cities Pet Sitter
DALLAS (PRWEB) January 21, 2019
Dallas and Plano pet sitting company, Park Cities Pet Sitter, has just announced a 5-week group dog training class beginning Saturday, February 9th from 2:30pm-3:30pm. The classes will run for 5 consecutive weeks, and will be held in the outdoor courtyard located at 5831 McCommas Blvd in Dallas.
The series of classes will be taught by Park Cities Pet Sitter trainer, Valerie Fry, who is an official "C.L.A.S.S." evaluator. "C.L.A.S.S." is an acronym for "Canine Life and Social Skills." It is an educational curriculum developed by the Association of Professional Dog Trainers that promotes dog training techniques using positive reinforcement. Participants enrolled in Park Cities Pet Sitter "Bachelor's" level of "C.L.A.S.S." will learn techniques to assist their dog as he or she maneuvers through a variety of real-world scenarios.
Some of the skills dogs and handlers will learn in the 5-week class will include: waiting calmly at the door, proper leashing up manners, loose leash walking, giving eye contact to handler while loose leash walking, meeting and greeting other people and dogs, leave it, settle, and waiting patiently for a food bowl.
Interested participants and their dogs can participate in Park Cities Pet Sitter's upcoming group dog training "C.L.A.S.S." for a cost of $150. Each dog in attendance must have one adult handler, and a maximum of 8 dogs will be allowed to participate. For safety, dogs should be a minimum of six months of age and have completed all of their first rounds of shots prior to the first day of class.
President of Park Cities Pet Sitter, Joette White, says this class is a fantastic way to kick off 2019 for dog owners. "We know that many people add four legged members to their family around the holidays or simply have New Year's resolutions about spending more time with their dog; so this is a great way for them to build their human-dog bond and learn positive reinforcement training techniques," said White. "More and more dog parents want to be able to bring their dogs wherever they go, whether it be to public parks, dog-friendly restaurants, or to friends' homes. Learning how to reinforce good dog behavior in a class like this just opens up a world of possibilities for a dog that is able to maneuver different environments and situations with ease."
To learn more about Park Cities Pet Sitter's "C.L.A.S.S." group dog training class, or to register to participate, visit http://www.pcpsi.com/events.
About Park Cities Pet Sitter: PCPSI has served the Dallas, Richardson and Plano areas 7 days a week, 365 days a year since 1992, and was recently named the 2017 Business of the Year by the National Association of Professional Pet Sitters. Dog walking, pet sitting, pet taxis, overnight sitting, pet supply shopping, and dog training are some of the many services PCPSI offers. Park Cities Pet Sitter is bonded and insured, and all sitters are employees--not independent contractors. A manager is on-call 24 hours a day to handle any emergencies. Go to http://www.pcpsi.com to learn more.