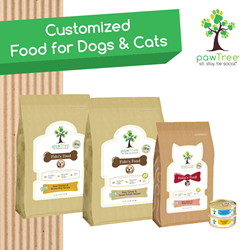 "....(our clients) want the best for their pets, and Pawtree pet products are clearly outstanding in both nutrition and taste, with the added convenience of delivery straight to their front door." Joette White, President of Park Cities Pet Sitter
DALLAS (PRWEB) August 02, 2018
Dallas and Plano dog walking and pet sitting company, Park Cities Pet Sitter, has partnered with Pawtree to sell and promote the Pawtree line of pet products. Southlake, Texas-based Pawtree manufactures premium natural dog and cat food, treats, seasonings and supplements, in addition to distributing a number of pet hard goods like toys and collars. Pawtree's real-food products are developed by veterinarians and PhD animal nutritionists, and are delivered straight to a customer's door, versus being sold in traditional brick and mortar stores.
Joette White, President of Park Cities Pet Sitter, initially learned about the health benefits of Pawtree products at a pet sitting industry conference in 2017, when numerous attendees talked about how Pawtree pet food and supplements had made noticeable differences in their own pets' lives. "It was pretty incredible to hear several of my peers talk about how simply switching their pet to Pawtree products improved their pet's health issues," said White. "One woman spoke about how her dog's inflamed and itchy skin went away, another spoke about how her dog's irritable bowel issues were reduced significantly, and a third remarked about how her cat's hair loss issues improved. It makes perfect sense that real food nutrition will lead to healthier and happier pets, and that is something that resonates with our company mission as well. Feeding your pet the best quality food, treats and supplements can only lengthen the amount of time we have with them, whether they are young and healthy, or a bit older with health concerns. Pawtree clearly has mastered this, so selling their products is something my company can really get behind."
Park Cities Pet Sitter is also a fan of how Pawtree chooses to address the perplexing question "What Should I Feed My Pet?" When a new customer first logs in to set up a Pawtree account, they create a profile for each of their pets that includes, species, age, and any health concerns. Pawtree developed an algorithm that takes this information, and then provides a detailed recommendation of the Pawtree products best suited for that pet. When owners receive their list, they can choose their products and go straight to checkout to have the products delivered, all without ever having to leave the comfort of their couch. EZ Ship orders can also be set up, so that a pet's food is automatically shipped on a predetermined schedule, so customers don't have to worry about running out of their pets' food, treats and seasonings when life gets busy.
"We are very excited to share Pawtree products with our clients," said White. "We know they want the best for their pets, and Pawtree pet products are clearly outstanding in both nutrition and taste, with the added convenience of delivery straight to their front door."
To learn more about purchasing Pawtree pet products, visit https://www.pcpsi.com/pawtree/.
About Park Cities Pet Sitter: PCPSI has served the Dallas, Richardson and Plano areas 7 days a week, 365 days a year since 1992, and was recently named the 2017 Business of the Year by the National Association of Professional Pet Sitters. Dog walking, pet sitting, pet taxis, overnight sitting, pet supply shopping, and dog training are some of the many services PCPSI offers. Park Cities Pet Sitter is bonded and insured, and all sitters are employees--not independent contractors. A manager is on-call 24 hours a day to handle any emergencies. Go to http://www.pcpsi.com to learn more.