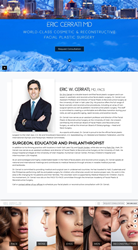 "This great accomplishment is the result of an outstanding team effort to consistently put our patients first," says Dr. Eric Cerrati.
PARK CITY, Utah (PRWEB) October 06, 2022
A milestone worth celebrating was reached by Dr. Eric Cerrati and his Park City practice with the earning of 100 Google five-star reviews from his satisfied patients. Eric Cerrati, M.D. is double board certified and a leading expert in aesthetic and reconstructive facial plastic surgery. Recognizing that choosing facial cosmetic surgery can be a life-changing decision, Dr. Eric Cerrati treats all of his patients with the utmost respect and kindness. This approach, coupled with his five-star Google rating, attracts countless patients from across the country. Using his elite training and skill, he provides the most cutting-edge, advanced treatments available. Dr. Cerrati believes that the finest aesthetic outcomes are achieved through close doctor/patient collaboration, which is why he performs extensive consultations with all of his patients. He truly takes the time to carefully evaluate and develop a highly customized plan, focusing on all aspects of facial plastic surgery, including both surgical and non-surgical options, to help patients in the greater Salt Lake City area look his or her best. Facelifts, rhinoplasty, endoscopic browlift, blepharoplasty, facial fillers, Mohs reconstruction, scar revision and pediatric facial plastic surgery for vascular/congenital anomalies and more are offered by this talented plastic surgeon. Dr. Cerrati also provides patients with the most experience in craniofacial surgical procedures than other specialists in his area.
"This great accomplishment is the result of an outstanding team effort to consistently put our patients first," says Dr. Eric Cerrati.
More about Dr. Eric Cerrati:
Dr. Eric Cerrati received his medical degree from the Medical University of South Carolina in Charleston, SC. His post-doctoral training included a 5-year residency in otolaryngology-head and neck surgery at NYU. Dr. Cerrati spent a significant amount of time working with Dr. Milton Waner, the founder of the Vascular Birthmark Institute of New York. This provided him with unique training in pediatric facial plastic surgery, addressing the rarest congenital anomalies. Following his residency, he completed a prestigious fellowship at the Facial Plastic Surgery Center in Chicago. Dr. Cerrati also served as the Director of Facial Plastic & Reconstructive Surgery at the University of Utah. As a leader in his field, Dr. Cerrati speaks at numerous conferences and is a contributor to many medical journals and textbooks. In addition to treating his patients, Dr. Cerrati is also the official facial plastic surgeon to the Utah Jazz, U.S. Ski and Snowboard Association, U.S. Speedskating, U.S. Bobsled and Skeleton Federation and the International Olympic and Paralympic Medical Committees. Dr. Eric Cerrati's office is located at 1441 W. Ute Blvd, Ste 160 in Park City, UT. For more information, please visit http://www.drericcerrati.com or call (801) 497-6944.