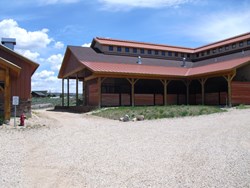 Park City, UT (PRWEB) October 09, 2013
Near the equine ranches of the Wasatch Range in Utah, this full service veterinary medical center is slated to be sold to the highest bidder as a part of an event being held by online real estate auction firm Micoley.com on Saturday, October 26th. Bids may be placed ahead of the auction event, and offers can be communicated to the seller through Micoley.com at any time.
The former Mountain Horse Medical Clinic served the entire region west of the Rocky Mountains with state of the art large animal veterinary equipment. The facility can also be utilized by a qualified veterinary surgeon for complex surgical procedures. In addition to equine and large animals, the clinic also serves owners of dogs, cats, rabbits, and other household animals in and around the Park City, Utah region.
With visibility from the freeway and a number of horse ranches nearby, the spacious facility houses large barn doors, and open floorplans. It also features a hospital building, barn and stalls for recovery, a manufactured home that was converted into an office building, and two adjoining undeveloped parcels of 2.43 acres each, totaling 7.36 acres of land.
Park City, part of Utah's "Wasatch Back," is a major tourist destination, featuring world class skiing and snowboarding at some of America's most popular winter resorts. The town of Park City is renowned for its charm, and part time residents there include a number of Hollywood celebrities. The Sundance Film Festival is held in Park City annually.
The opening bid for this property will be $1,250,000 well below the original listing price of $1,999,900. Participants in this auction are not required to be on site, as bidding will take place online at Micoley.com.
Registering online gives all interested buyers the ability to make offers, or bid in advance of the auction. Offers are expected prior to the auction date for this property, and the seller will entertain them. Notable properties frequently have offers accepted, and are sold prior to their auction date, October 26, 2013 from 11am -2pm CDT.
It is highly recommended that bidders seek further information, conduct their due diligence, and satisfy all questions and concerns about this property before bidding or placing an offer. Directions and address, photos, further details, and additional information can be found by visiting http://micoley.com.
Questions about the auction can be answered via Micoley's live chat service online, or by calling 1-866-387-2382. Visiting the property in person is also recommended.
Green Bay, WI-based Micoley.com is a real estate marketing firm specializing in project focused auctions of bank-owned properties throughout the United States. The Micoley approach to real estate marketing tailors each auction plan to the client's individual needs. The site is constantly being updated for the benefit of buyers, as large scale auction events are held monthly, and new properties are added daily. Broker Annie Hedberg #550701-bb00.