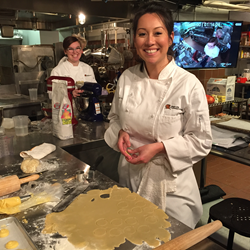 ...We set up our school to have a tuition in line with the salaries our graduates would receive. We don't want our graduates burdened with debt. We developed a program that gets students the same jobs - in just two short months.
Park City, Utah (PRWEB) January 14, 2016
As many notable for-profit culinary schools have had to shut their doors recently as a result of federal scrutiny, a growing school just outside of Salt Lake City, Utah is innovating culinary education. Reacting to frustrated students graduating from two-year culinary schools with thousands of dollars of debt that could never be paid off, Park City Culinary Institute launched an affordable, two-month program that could introduce students to a new career without exorbitant debt. The program has started to take off, as two-year colleges shut their doors.
The changes in the industry have happened very quickly. Well known career colleges have tumbled like dominoes since the Obama administration, in an attempt to rein in abusive practices, passed a series of Gainful Employment Regulations. These rules limit the amount of money a student can borrow to what can reasonably be paid off by the salary they can expect to get once they graduate. Before these regulations, tuition hikes were frequent, making it increasingly difficult for students to pay off their education. Federal money was financing as much as 90 percent of for-profit college operations. Meanwhile, as many as 25 percent of culinary school graduates were defaulting on their loans, leaving taxpayers to pay the bill. Once the regulations were announced, several of the most well-known culinary schools announced they will shut their doors, including schools near Salt Lake City, Utah, Las Vegas, Nevada, and several dozen more around the country.
Realizing this model was not sustainable, Park City Culinary Institute opened in 2013 with an alternative, innovative approach – a two-month, affordable program that partners students with renowned chefs; students are eligible for the same jobs after two months as those graduating from two-year career colleges, only without the exorbitant debt.
"Too many schools were failing to live up to their promises," observed Laurie Moldawer, Director and Founder of Park City Culinary Institute. "It never made sense to me, and seemed unfair, to ask students who would be working moderate-paying jobs to take on enormous amounts of debt. Instead, we set up our school to have tuition in line with the salaries our graduates would receive. We don't want our graduates struggling as their careers are just starting. We developed a program that gets students the same jobs - in just two short months. In fact, we have better placement rates because we are smaller, and give our students access to some of the most respected chefs in the country."
While other schools are shutting down, Park City Culinary Institute's innovative model is taking off, with the school expanding from its first campus in Deer Valley to a second campus in Salt Lake City this year. Students can pay off tuition with six-month internships. This is unheard of in the industry.
"Park City is said to have more chefs per capita than even Paris, which may be why students from around the county choose our location to hone their culinary skills. Our innovative program is led by a faculty of award-winning Executive Chefs and business owners from the region's top restaurants and catering companies. We have field trips that give students the opportunity to meet with farmers and artisans, and discover how they can have a say in what farmers grow, and what cheeses can be made for them locally, as they begin their careers," Moldawer explains. "We are very fortunate to be in Utah, where students form relationships with farmers, ranchers, and artisans who produce the healthy ingredients they'll be cooking with. Not only is our program shorter and more affordable, it gives students a well-rounded experience, working with some of the best chefs in the country."
Beginning the first day of class, Park City Culinary Institute's students work in small groups to develop knife skills and learn various cooking methods and techniques. They no longer need recipes; they understand the science behind the recipes.
Culinary Director and Chef Instructor Houman Gohary, who is fast becoming a regular personality on the Food Network, opened Park City's Good Karma restaurant after opening more than a dozen restaurants for Ritz Carlton around the world – including several that now have three Michelin stars. Additional, dynamic faculty members include Rebecca Millican, Executive Pastry Chef at la Caille, who for many years trained New York's top chefs in pastry, and Adam Kreisel, whose career started in some of San Francisco's finest kitchens, served as executive chef at Robert Redford's Sundance Resort, and now owns Chaia Cucina, a high-end catering and consulting company. More information on Park City Culinary Institute's renowned faculty can be found at http://www.parkcityculinaryinstitute.com/meet-the-team/
Applications are currently being accepted for upcoming programs in Salt Lake City, February 8 – March 31, 2016 and Park City/Deer Valley: April 11 – June 3, 2016. For details, visit http://www.culinaryschoolutah.com/
ABOUT PARK CITY CULINARY INSTITUTE
Park City Culinary Institute collaborates with the region's top chefs to offer a distinctive culinary program that rivals some of the best culinary schools in the country. In addition to the school's two-month immersive hands-on program, the Institute hosts team building events and demonstrations for private and corporate groups. Park City Culinary Institute is "On to something fantastic!" according to Food Writer Wilbert Jones, and the innovative approach to culinary education is "Definitely overdue" according to restaurant owner Jesse Shetler. Students are trained to succeed in small classes with personalized attention, where they master essential techniques and gain experience with diverse ingredients. For more information, visit ParkCityCulinaryInstitute.com.