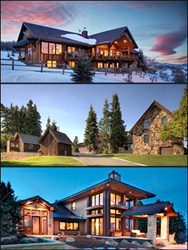 Park City, UT (PRWEB) July 01, 2014
Those hunting for luxury homes will be pleased to hear that three beautiful homes valued well over $1 million are to be featured during one of Micoley.com's nationwide sales events on July 26. Located in Park City, Utah, the famed site of the Sundance Film Festival and snow-packed ski slopes each January, all three properties are on sale for a limited time only through Micoley.com's marketing alliance with Mike Mazzone, Real Estate broker and owner of Park City Realty Group.
For those looking for a home with breathtaking views of all three local ski areas, there is a beautiful mountain home on 20 acres in a gated community at 7 Red Hawk Lane. The house also has a direct view of the Snyderville Basin, the Glenwild and Promontory golf courses, Olympic Park and the Uintah Mountains. Out the back door are miles of horseback riding, hiking, snowshoeing, cross country skiing, sledding, tubing and snowmobile trails for year-round enjoyment and fun.
The home itself is 5,400 square feet, with 5 bedrooms, 5 full baths (and 2 half baths), 4 fireplaces, 2 laundry rooms, a media room, a 3-car heated garage, plus 2 master suites. In addition to an 8-stall horse barn with a water system in every stall, there are 2 man-made ponds that frequently attract wildlife and bird species are visible from the large covered deck and porch. The house comes furnished, with 3 snowmobiles and a hot tub. Property is listed at $2,479,799 with a suggested opening offer of $1,775,000 if no offers are received prior to the July event.
At 1609 Tollgate Canyon Road views overlooking over 138-acres of mountain land can be seen from this 5,338-square foot home, which features 5 bedrooms, 3.5 bathrooms, and several outbuildings. Also included on the property is a 1-bedroom, 1-bathroom guest house perfect for any over-night guests. The property is listed at $3,500,000 with a suggested opening offer of $2,950,000 if no offers are received prior to the event.
Within a gated community on 10 acres of land at 19 Red Hawk Ridge Road is a 5,455-square foot house with the following amenities: 5 bedrooms, 4 bathrooms, tile and wood flooring, lower-level walkout, main-level master bedroom, ski storage, hot tub, air and water purifiers, fireplace and a mother-in-law or au pair suite. In addition to sporting beautiful mountain views, this modern home (it was built in 1997) has outstanding views and is situated in a community that knows how to weave together relaxation and recreation. Property is listed at $1,725,000 with a suggested opening offer of $1,395,000.
The highly motivated sellers of these three properties have indicated that they plan to entertain early bids and offers. Buyers are most likely already researching these properties, and coming to decisions about whether to make a purchase, so potential buyers are advised to act fast. The properties are to be featured along with over 80 other properties across the nation. The online event is scheduled to commence at 11am CDT and will last until 2pm CDT. Property types for the entire event include commercial, turnkey bar, gas station, industrial, office, and 3 turnkey restaurants/bars, land of all types, multi-family, and residential (investment and owner occupy).
Interested parties should visit micoley.com to find more photos and details about the property, or by visiting in person and performing an inspection on site, which is highly recommended. (866) 371-3619 is Micoley.com's information line. Additionally, Micoley.com features a live chat service through which questions can be answered.
About Micoley.com:
Green Bay, Wisconsin-based Micoley.com is a real estate marketing firm specializing in project focused auctions of bank-owned properties throughout the United States. The Micoley.com approach to real estate marketing tailors each auction plan to the client's individual needs. The site is constantly being updated for the benefit of buyers, as large-scale auction events are held monthly, and new properties are added daily.
UT Broker: Mike Mazzone #5486810PB00.
UT Broker: Wade T. Micoley #9058236-PB00.
UT Broker Firm: Micoley.com, LLC #9058255-CN00.
For a full list of licensing, please visit their website.