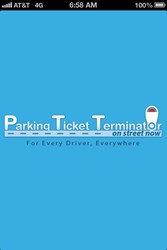 The goal of the Parking Ticket Terminator, "Is to save people money and heartache. To connect people and give them a way to make a difference in their communities and to respect the laws regarding street parking regulations," says its creator John Stan.
New York (PRWEB) September 18, 2013
TimeMight Corporation has released its first iPhone® app called Parking Ticket Terminator – On Street Now to end parking tickets, booting and towing. The app is a comprehensive system to tackle the many aspects of on-street regulations. The app saves, stores, organizes, and shares (crowd sourcing as well as company input) parking regulations. Users can create a personal set of regulations and easily turn on and off the beginning and end alarm notifications as needed, set ticket related expiration notifications, search street parking signs in other zip codes, set a count down meter reminder, rate existing data from other users and mark a parking spot location. The app has a unique way to enter parking sign information using parking sign language, and can store some of the most confusing and hard to remember regulations. The date display on the app is also unique to parking restrictions. Users can also post parking tips and specific things to watch out for in a zip code such as hidden signs, as well as post on the local zip code calendar feature when parking will be effected by an event to help other app users. When a person uses the Parking Ticket Terminator – On Street Now app for iPhone, they will make a difference in their driving community. Businesses and non-drivers can help motorists in their zip code by entering regulation data and tips as well.
TimeMight Corporation partially pre-populated the data base of parking information in the app Map Search feature in several zip codes up and down the U. S. east coast in the following neighborhoods and cities:
NY: Park Slope, Windsor Terrace, Bay Ridge, Carroll Gardens, Red Hook,
NC: Asheville, Chapel Hill
PA: Philadelphia, Gettysburg
TN: Pigeon Forge, Chattanooga, Gatlinburg, Sevierville
The fines for parking regulations have sky rocketed all over the world. In today's economy it is getting harder and harder to afford even one ticket let alone getting towed away. These fines affect new drivers, college students, individuals, families, and companies. Lately, news stories surrounding parking tickets have become more violent for officers. In addition, the new trend of apps allowing private citizens to report offenders is a scenario waiting to turn ugly. This app is not just for people who own and drive vehicles. It is for anyone who wants to help others avoid very costly, budget-breaking fines and large amounts of wasted time and energy. Parents can help their kids, and neighbors can help neighbors. Scratching one's head over parking regulations will become a thing of the past.
###
If you would like more information about the app, topic or would like an interview with the inventor, please visit the app help page on the web site or feel free to call or email John Stan. jstan (AT) timemight (dot) com.