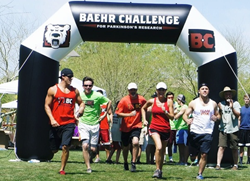 Wow! I feel like a new woman since starting SottoPelle®. If a person like me (diagnosed with PD in 2008) can feel this energetic again – then anyone can! I feel more youthful, alert and alive! - Patti Meese.
(PRWEB) March 23, 2015
In an effort to support and bring awareness to Parkinson's Disease (PD), SottoPelle® is an official Sponsor of the PD Challenge 2015 , and participating in other events to promote awareness, find the cure, and treat those with PD. Parkinson's disease is a progressive and degenerative neurological disorder in which those afflicted suffer from tremors, cramping, involuntary movements, bradykinesia, insomnia, difficulty swallowing, and walking, amongst others. One in 100 people are diagnosed with Parkinson's disease with estimates of 65,000 new diagnoses each year. To date, there is no known cure.
SottoPelle® has been working with many Parkinson's patients who have seen benefits with SottoPelle® Bio-Identical Hormone Therapy (BHRT). Early-onset PD patients are experiencing improvement of their quality of life with SottoPelle® therapy. The BHRT is helping patients become more functional, offering them more vitality and energy to keep active. Brian Baehr, Founder of the Baehr Challenge for Parkinson's Research in Phoenix, Arizona is a SottoPelle® and Parkinson's disease patient. "SottoPelle® is making a significant difference in how I feel every day. It's an important addition to my Parkinson's protocol."
Dr. Gino Tutera MD, FACOG, a board-certified physician now in his 40th year of practice and medical director of SottoPelle®, is dedicated to helping the quality of life for all his patients and presented an educational talk on Parkinson's and how natural BHRT can help Parkinson's Disease patients enjoy an improved sense of well-being on March 13, 2015 at the Banner Neuro Center in Gilbert, Arizona.
On March 28th 2015, SottoPelle® will also be participating in the M. Ali foundation Fight Night. This event is recognized as one of the nation's elite charity events, Celebrity Fight Night is a star-studded evening presented in honor of featured guest, Muhammad Ali. Celebrating its 21st year, the Celebrity Fight Night Gala will be emceed by Grammy Award-winning leading lady of country music Reba McEntyre, who will return as the evening's emcee for the tenth year.
In April, SottoPelle® is sponsoring the PD Challenge with Roy and Mick's Parkinson's who are SottoPelle® patients using BHRT to help their PD. Many others have seen the benefits as PD patients such as Patti Meese, who has been a SottoPelle® patient since 2013, and is also the Michael J. Fox Foundation Genetics Ambassador, and Parkinson's Action Network Director in North Carolina.
For more information on how to get involved to help fight Parkinson's disease, please contact us at info(at)sphrt(dot)com. Additional information, on SottoPelle® and PD can be found on our website.
About the PD Challenge
The PD Challenge 2015 begins with Roy and Mick's Parkinson's Ride Across America starting on April 15th. Roy was diagnosed with Parkinson's disease in 2009 and he and Mick Beaman have since been dedicated to raising awareness to those afflicted with Parkinson's disease. Since his diagnosis, Roy has been extremely devoted to supporting this cause and has been proactive in a variety of fundraising events including a 5,000mile 4 month bicycle ride from Seattle to Miami in 2012. Their goal this year is to engage in a nationwide journey to educate, inspire and raise funds for those in the Parkinson's community. They are riding in support of 501c3 Michael J. Fox Foundation.
About Celebrity Fight Night
Celebrity Fight Night Foundation is a non-profit organization that was founded in 1994 by long-time Arizona resident and businessman Jimmy Walker to support the Muhammad Ali Parkinson Center at Barrow Neurological Institute in Phoenix, as well as numerous other charities. Each year, Celebrity Fight Night attracts first class celebrities from the sports and entertainment worlds. Recognized as one of the nation's elite charity events, this power-packed evening leaves a lasting impression on attendees and provides significant dollars for various charities.