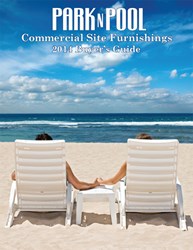 Over the past 10 years, I am very pleased with how the look of our catalog or Buyer's Guide has improved.
Lexington, VA (PRWEB) February 05, 2014
As the leading online distributor of commercial grade furnishings and site amenities such as park benches, picnic tables, pool furniture, playgrounds and bleachers, it is very important for ParknPool to get their annual buyer's guide out to their clients in a timely manner. ParknPool's 2014 buyer's guide was sent to the printer on February 3rd and is expected to reach the hands of the clients in their existing mailing list by Monday, February 17th.
Along with changing the name from catalog to buyer's guide, they have also added a few more categories to make it easier for their clients and prospects to find the items they are looking for. Considered a business to business organization, though they will work with consumers as well, ParknPool hopes their 2014 buyer's guide will find its way on the bookshelves of commercial buyers, school board officials, park and recreation directors around the country.
ParknPool's annual buyer's guide features pricing, terms and definitions, testimonials and some of their most popular products. Each year, they change the cover to pleasantly feature one of these products. This year's cover photo features a chaise lounge scene reminding you of sunny days by the seashore. The back of this year's buyer's guide features a park scene. Both images represent items in ParknPool's product line.
ParknPool's 2014 Buyer's Guide celebrates 10 years; their first self designed catalog was printed in 2004 and was much smaller in size. Over the past 10 years, they have improved on the product line featured, the aesthetic look of the catalog as well as the graphics included. "Over the past 10 years, I am very pleased with how the look of our catalog or Buyer's Guide has improved. It aesthetically shows off some of our most popular products and gives commercial buyers, park departments and HOA presidents an efficient means of searching and purchasing their commercial grade furnishings and site amenities," explained Jim Fonner, ParknPool's Administrative Manager and Co-Founder.
Their 2014 buyer's guide will also be available upon request. To reserve a copy, which will be available towards the middle of February, call 877.777.3700 or send an email to info(at)parknpool(dot)com. To view a full product line, visit their website at http://www.parknpool.com.
About ParknPool Corporation:
ParknPool is a Veteran Owned SBE/WBE Company and is the leading online supplier of commercial grade furniture and site amenities such as picnic tables, trash receptacles, park benches, bleachers and playgrounds. ParknPool was founded in 1998 in Orlando, FL and moved their headquarters to Lexington, VA in 2005.