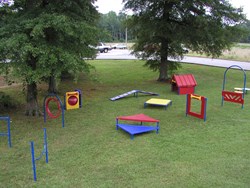 Lexington, VA (PRWEB) October 30, 2013
A dog park is a location set aside for dogs to exercise and play in a controlled environment under the watchful eye of their owners. It is a safe setting for both dogs and humans to interact with each other and to possibly learn more about other breeds and their behaviors. It is a great opportunity for owners to play with their pets where they otherwise might not be able to do so, such as in cities or areas with little to no yards. ParknPool, along with their DOGIPOT® stations, is now offering dog park equipment to further enhance their selection of amenities for everyone's four-legged companions.
Dog parks are a fantastic way for community members of all ages to interact with each other. With low start up and maintenance costs, dog parks offer a great return since park users are often voting adults. Dog parks offer outdoor exercise for park users and their dogs; they can also help with training a disobedient puppy. Providing exercise and a means to run freely is important for dogs, just as it is important for their owners. ParknPool's new dog park equipment can help to do just that and can be easily accompanied with their human suitable fitness equipment.
It's important to keep a dog entertained while visiting a park. To assist in this, ParknPool now carries several pieces for dogs to keep them happy and busy. Each piece is sold individually so they can be arranged in a course or set separately and sporadically depending on the look and design of the area. Deciding early on how funds will be raised for revamping or starting a dog park can make the process a bit easier. Funds can either be acquired through a local government or by private contributions. Either way, ParknPool's equipment is reasonably priced and their account managers are available to help prospects budget for any purchases.
For more information on ParknPool's dog park equipment or interested in starting a community dog park, call 877.777.3700 to speak with one of ParknPool's account managers and to request a guide on fundraising tips and the benefits of starting a dog park.
About ParknPool Corporation:
ParknPool is a Veteran Owned SBE/WBE Company and is the leading online supplier of commercial grade furniture and site amenities such as picnic tables, trash receptacles, park benches, bleachers and playgrounds. ParknPool was founded in 1998 in Orlando, FL and moved their headquarters to Lexington, VA in 2005.