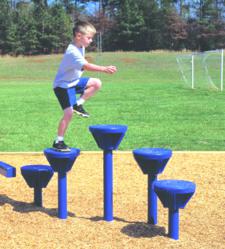 Lexington, Virginia (PRWEB) July 05, 2013
The benefits of playing outdoors cannot be denied. Individual playground parts specifically placed throughout a play area can help young children develop hand/eye coordination, improve on their upper and lower body strength as well as engage their curiosity and imagination. ParknPool has recently added playground parts to their existing line of complete playground systems. These individual parts represent several age ranges, use zones and skill levels.
Currently found in their Playground Parts sub-category, are bubble walls, chain link walls, freestanding climbers, panel climbers, horizontal ladders, riders, sand diggers, see-saws, balance components, activity stations as well as playground and safety signs. The bubble walls, chain link walls and panel climbers are manufactured with polyethylene rotomolded panels and powder-coated posts. Each climbing apparatus is available in three (3) different styles to challenge and engage young children.
The large variety of freestanding climbers and horizontal ladders that ParknPool is now offering have powder-coated frames and foot/hand holds to help young ones develop their hand/eye coordination. Climbing these parts can be done on an individual basis or with a friend in competition. Children's imaginations will run wild with ParknPool's new spring or tension mounted riders. From airplanes to elephants and fire trucks to whales, placing a variety of these riders in a playground will only enhance the fun.
Also included in their new Playground Parts sub-category are playground and safety signs. The age appropriate safety signs help designate and separate your playgrounds. The sign and posts are available in a variety of colors to match an existing play area or a brand new playground color scheme. The playground activity signs, which include a no parking, railroad crossing, stop, yield and traffic light sign, will help children develop an imagination for creative games. When placed around the play area, children can imagine they are racing, going to the store or just out for a Sunday stroll making sure to obey all the traffic signs and postings.
Most of Parknpool's new playground parts, with the exception of a few, are available in a variety of color options to allow for customization. In addition to what can be found on their website, ParknPool also has freestanding slides, swings and swing frames. Re-visit this new category to keep an eye out for new playground parts to be added. For more information concerning these individual playground components, call 877.777.3700 or email your questions to info(at)parknpool(dot)com. When you call and mention receiving a copy of their Playground Budgeting Guide, ParknPool will give you 10% off your next playground order*.
*Offer expires July 31, 2013
About ParknPool Corporation:
ParknPool is a Veteran Owned SBE/WBE Company and is the leading online supplier of commercial grade furniture and site amenities such as picnic tables, trash receptacles, park benches, bleachers and playgrounds. ParknPool was founded in 1998 in Orlando, FL and moved their headquarters to Lexington, VA in 2005. http://www.parknpool.com