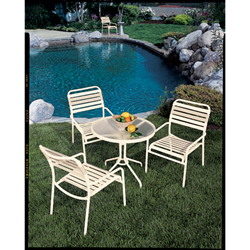 Lexington, VA (PRWEB) September 25, 2013
ParknPool is now offering a winter promotion on a selection of Tropitone® items. As a leading online and catalog distributor of commercial grade outdoor furniture and site amenities such as pool furniture, picnic tables, park benches, bleachers and playgrounds, ParknPool recognizes the need to offer their clients quality and affordable products that can be relied on. The Tropitone pieces included in their winter promotion are available in a variety of colors and configurations.
The Tropitone® Kahana Strap and Cross Strap pieces, which are now available for a lower price, are manufactured with an all-aluminum construction and weather-tough finish offering all you need for a life in paradise. This collection includes stackable dining chairs (79CH-032 and 79CH-033), a club chair (79CC-002), and stackable chaise lounges (79LC-019 and 79LC-020). All pieces are designed for public environments, with seat pads also available (not included in promotion). A few pieces from the Tropitone® Millenia collection are also included. The sling dining chair (79CH-023) and chaise lounge (79LC-007) as well as the EZ-Span™ dining chairs (79CH-034 and 79CH-036) and chaise lounges (79LC-021 and 79LC-022) are modern classics with simple lines and commanding presence that will keep areas stylish all year round.
The Tropitone® Tropi-Kai® strap chaise lounge (79LC-001) is also included in ParknPool's winter promotion. This chaise lounge remains the first choice of those who seek the utmost in strength and durability, particularly in demanding pool furniture environments. The double wrapped vinyl straps are perfectly suited for outdoor pools and public spaces. This chaise lounge certainly sets the benchmark for comfort and longevity. Other Tropi-Kai® pieces are available, however are not included in this winter promotion.
There are also several tables and umbrellas available at a more affordable price, but for a limited time. For a purchase to qualify, an order must be placed by March 28, 2014 and must ship by April 25, 2014. If an order totals $7,250 or more, it will also qualify for free shipping. This free shipping applies to all Tropitone® orders (not just ones containing items included in the winter promotion) that are placed by February 28, 2014 and ship no later than April 18, 2014,
ParknPool seeks to ensure that their clients have the best chance to find what they need, at the best prices. They strive to offer their clients the best selection of outdoor amenities and unmatched customer service. ParknPool achieves this by exceeding expectations while enhancing their clients' earnings. For more information or answers to any questions about ParknPool's Tropitone® Winter Promotion, call 877.777.3700.
About ParknPool Corporation:
ParknPool is Veteran Owned SBE/WBE Company and is the leading online supplier of commercial outdoor furniture and site amenities such as picnic tables, trash receptacles, park benches and bleachers. ParknPool was begun in 1998 in Orlando, FL and moved their headquarters to Lexington, VA in 2005.