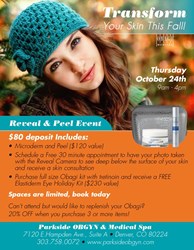 "Our goal is to transform our patients skin," said Lucia Hazen, Parkside's certified esthetician. "Obagi is one of the top Medical Grade products on the market."
Denver, CO (PRWEB) October 22, 2013
Learn about Obagi and its rejuvenating properties for the skin this fall at Parkside Ob/Gyn's Fall Obagi Party on October 24, 2013, from 9 am to 4 pm.
Located at 7120 Hampden Avenue, Suite A, Denver, CO 80224, Parkside Ob/Gyn is proud to host their Fall Obagi Party for anyone interested in attending. What is Obagi? Obagi is a professional line of skin care products, which contain prescription-strength formulations and are available only through physicians, medical spas, and other skin care and medical professionals.
Known for its beautiful blue sky and 300-plus days of sunshine every year, Colorado also is known for its perpetually dry weather. The ongoing dryness in this climate easily saps moisture from skin, leading to redness, dry patches, and breakage. Learn better skin care practices before this winter sets in at Parkside's Obagi Party.
"Our goal is to transform our patients skin. To improve texture, tone, and clarity," said Lucia Hazen, Parkside's certified esthetician. "Obagi is one of the top Medical Grade products on the market. Patients start seeing results in as little as four weeks."
Space is limited for the Fall Obagi Party at Parkside Ob/Gyn and Medical Spa in Denver, Colorado, so please call today at 303-758-0072 to book a space. Known as Parkside's "Reveal and Peel Event," the $80 party fee includes the following items:

Microderm and peel ($120 value)
Schedule a free 30-minute appointment to have a facial photo taken with the Reveal Camera to see deep below the surface of the skin and receive a skin consultation.
Purchase a full size Obagi kit with tretinoin and receive a free Elastiderm Eye Holiday Kit ($230 value)
For those not able to attend the Obagi party, Parkside Ob/Gyn is offering a 20% off Obagi products coupon when a new or existing Parkside client calls in today and purchases three or more items.
Dr. Roland, M.D., and her small, dedicated staff at Parkside Ob/Gyn in Denver, tailor their gynecology and medical spa services to fit each patient's requests and needs. Dr. Roland is a board certified Ob/Gyn doctor practicing medicine for more than 20 years.
For all medical services, Parkside Ob/Gyn offers annual exams with Dr. Roland, their female gynecologist, fertility testing and treatment, minor in-office medical procedures, and much more. Parkside is also known for its wide range of Medical Spa service offerings such as Botox, Juvederm, Radiesse, Latisse, and of course, Obagi professional skin care products, among others.
Don't miss out on this autumn's Obagi Party at Parkside Ob/Gyn and Medical Spa in Denver hosted on October 24, 2013. Call Parkside's office today at 303-758-0072 to book a space.