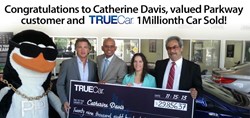 I never win anything. This is unbelievable!
(PRWEB) November 19, 2013
Parkway Motorcars welcomed a very special customer. Catherine Davis, and Army veteran and Georgia native, selected her Hyundai Sonata using the online service TrueCar.com. When she completed her selection, she had no idea she would be the website's 1,000,000th customer. To celebrate the milestone, Ken Potter, Vice President of Dealer Development of TrueCar arrived at Parkway Hyundai to document the purchase, and to purchase the car for her as a special reward from TRUECar!
"I never win anything," Davis said. "This is unbelievable!"
"It was all quite exciting," said Steve Keefe, Managing Partner of Parkway Motorcars. "We've partnered with TrueCar for several years now, to provide yet another avenue for making our vehicles available to the public however they prefer to shop. But to have one of our cars be the millionth purchase? We couldn't have predicted that."
"Congratulations to Catherine on the new vehicle, and the excitement around the purchase itself," added Keefe. "Driving home with a new vehicle is always a great feeling. And whether through TrueCar, our own website, or an in-person visit to the lot - we're happy to be a part of that experience."
About Parkway Automotive
Parkway Motorcars was founded in 1991 as a small store on Creekside Road, which was then underdeveloped, selling just Oldsmobile and Cadillac models. Over the next 20+ years, the dealership grew up, step in step with the surrounding community. The Valencia auto dealership provides new and pre-owned sales, service, and customer service that has earned consistently exemplary feedback from its customer base. Parkway now offers vehicles from several of the most respected and acclaimed manufacturers in the industry, including General Motors, Infiniti, Hyundai, and Volkswagen.