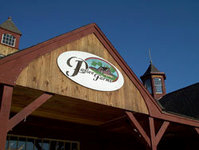 We have a great blueberry crop this year and are so pleased to have seen so many familiar faces visiting the farm!
Tyngsboro, MA (PRWEB) August 06, 2015
Parlee Farms (http://parleefarms.com/) in Tyngsboro, MA began its blueberry picking season in July and it is expected to run until mid-late August. In addition, fresh picked blueberries are available to be purchased in the farmstand.
"We have a great blueberry crop this year and are so pleased to have seen so many familiar faces visiting the farm. There are still plenty of blueberries left to be picked and we're hoping to meet some new visitors as well. Blueberries are both nutritious and delicious," said Ellen Parlee, owner of Parlee Farms.
Parlee Farms first started planting blueberry bushes in 1991. Due to large demand, plantings have continually been added and the farm now has over 10 varieties of high bush blueberries covering almost nine acres ripening over the course of the season.
Blueberries are one of the healthiest fruits available for picking. They rank number one in antioxidant activity as compared with 40 other fruits and vegetables. One cup of fresh blueberries has about 85 calories. Blueberries have their greatest flavor when they are left on the bush for 7-10 days after turning blue. When ripe, the blueberries will easily come off the bush. Blueberries have a long shelf life – almost two weeks for dry, refrigerated blueberries and should not be washed until they are ready to be used. One quart of fresh blueberries weighs about 1-1/12 lbs. and will yield five servings.
In addition to blueberry picking, Parlee Farms also offers peaches, nectarines, and plums that have been picked at their optimum ripeness at the farmstand. Peach picking in the peach orchard is available occasionally, depending on availability. The peach orchard is a five minute walk from the farmstand. The farm has 15 varieties of freestone peaches as well as three varieties of nectarines and eight varieties of plums.
Visitors are also able to cut their own flowers from the flower field starting in early August. Ten shades of 'Benary Giant' zinnias, 5 varieties of beautiful sunflowers, and many different shades of gorgeous gladiolus cover about one acre of the farm. Parlee Farms supplies the bucket and shears and wraps the flowers for customers once they are done picking.
Parlee Farms offers many attractions for visitors to enjoy while spending a day at the farm. Mary's Country Kitchen and Bakery offers tasty treats related to each picking season as well as ice cream. Their award winning donuts are a must-try during any visit. Annie's Animal Barns are filled with young farm animals to feed and pet including baby goats, sheep, chickens, and bunnies. Little farmers can take a spin around Farmer Mark's Tractor Training Course.
To learn more about Parlee Farms and to find out what the current picking conditions are, please visit http://parleefarms.com or https://www.facebook.com/parleefarms.