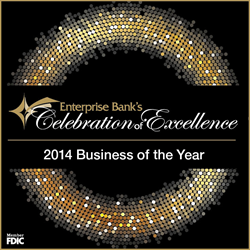 We are proud to honor Parlee Farms for the positive impact they are making for their customers, employees, and the community.
Lowell, MA (PRWEB) November 25, 2014
Parlee Farms (http://parleefarms.com/) of Tyngsboro, Massachusetts, is proud to announce that it has been honored as a "Business the Year" at the 2014 Enterprise Bank Celebration of Excellence Awards.
Inaugurated in 2008, Enterprise Bank's Celebration of Excellence celebrates the remarkable entrepreneurs, businesses, and community leaders who have achieved success, while inspiring others to excel. The Business of the Year Award recognizes and honors successful local businesses for their financial achievement, positive workplace environment and continued community impact.
"As a local, family-run business, Parlee Farms in Tyngsboro has grown to become one of the largest commercial farms in Massachusetts, well deserving of its recognition by the Massachusetts Office of Travel & Tourism as one of the 1,000 Great Places to Visit in the state," said Enterprise Bank CEO Jack Clancy. "We are proud to honor Parlee Farms for the positive impact they are making for their customers, employees, and the community."
The Celebration of Excellence recognizes individuals and organizations in the following categories: Educator of the Year, Business of the Year, Entrepreneur of the Year, Community Service, Corporate Philanthropy, and Non-Profit of the Year. The 2014 award ceremony was held November 12 at the Lowell Memorial Auditorium.
"We are truly honored to receive the Enterprise Bank Celebration of Excellence award for Business of the Year," said Mark Parlee, Parlee Farms Owner. "This recognition reflects our dedication to fulfilling our mission to provide the highest quality fruit, vegetables, and flowers grown in an environmentally friendly way; to provide a safe environment where families can spend time together; and to be good stewards of the land."
Each Celebration of Excellence event is preceded by a nomination period. Anyone may submit a nomination of any Massachusetts- or New Hampshire-based business or individual. The award finalists and recipients are selected through a comprehensive review process by impartial judges.
"At Enterprise Bank we understand the long hours, fortitude, perseverance, and vision necessary to dedicate oneself to achieving a dream," said Jack Clancy. "For more than 25 years, we have witnessed the remarkable results realized by people who are determined to create success. These people are not seeking recognition and know that creating success is its own reward, but it is our honor and privilege to provide them with the public recognition they so richly deserve."
About Parlee Farms
Located on 93 beautiful acres near the Merrimack River in Tyngsboro, MA, Parlee Farms offers the finest fruits, vegetables and flowers. Owned by Mark and Ellen Parlee, we began in 1988 with two acres of strawberries. Along with our two daughters, Mary and Annie, we worked hard as a family to make our dream of farming a reality. Over the years, we were fortunate to be able to purchase beautiful river-bottom land on Farwell Road. Almost 70 percent of our Tyngsboro pick-your-own farm is preserved under Massachusetts' Agricultural Preservation Restriction Program, which means the land will always be used for farming and cannot be developed. As we added land, we added more crops. To sell the crops, we added a Farmstand, Annie's Animal Barns, Mary's Country Kitchen and Bakery, 15 hay ride wagons, Indoor Restrooms, and our wonderful employees to keep everything running smoothly. Visit ParleeFarms.com.
About Enterprise Bank
Founded in 1988 in Lowell, Massachusetts, Enterprise Bank serves the entrepreneurial spirit of our thriving, local communities. As a full-service commercial institution, Enterprise Bank provides financial resources for growing businesses, professionals, non-profits and individuals that we welcome, not just as our customers, but as our neighbors. Enterprise Bank has 22 full-service branch offices located in the Massachusetts cities and towns of Acton, Andover, Billerica, Chelmsford, Dracut, Fitchburg, Leominster, Lowell, Methuen, Tewksbury, and Westford and in Pelham, Hudson, Nashua, Salem and Derry, New Hampshire. Enterprise Bank and Trust Company is listed on the NASDAQ Global Market under the stock symbol "EBTC". Visit EnterpriseBanking.com.